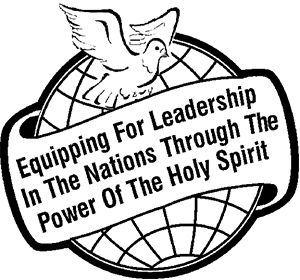 Barnabas Bulletin ~ 0216
KEEP CLOSE TO JESUS!
We are living in difficult and challenging days.

For Christians it is very important that we keep close to Jesus, listen to His voice and have a commitment to do whatever He asks of us.
This is vital, for whatever He says to us is exactly right for us at this point in time. Remember, He is the Truth and He tells no lies. Therefore it is very important for us to trust Him totally so we can have the benefits of truly being led by the Holy Spirit in these times (Romans 8:14).
How do we keep close to Jesus?

We need to have a daily devotional life where we spend time praying and talking to Jesus, reading His word, meditating upon it and learning to do His will on a daily basis.

It is also a necessity to be filled with the Holy Spirit and to know the reality of speaking in other tongues (Acts 2:1-4).

That enables us to speak "spirit to Spirit" with God and it baffles the devil, because he does not know what we are speaking to God on a one-to-one basis.
Remember, speaking in tongues is God's idea, not mans'. It is a key to building ourselves up in faith and confidence towards God (Jude 20). And we all certainly need building up in faith, confidence, and to have the power of God in our lives. The coming of the Holy Spirit into the Early Church disciples brought a power into their lives that they had not experienced before. That power of the Holy Spirit transformed them from doubting, hard-hearted, unbelieving believers (Mark 16:9-14) into mighty men and women of God who went out and turned their "world upside down" as the Bible puts it: "These who have turned the world upside down have come here too" (Acts 17:6). (Today we would most likely say to "turn the world right side up".)
It took the power of the Holy Spirit, accompanied by the speaking in other tongues, to cause them to rise up in faith and obedience to accomplish great and mighty things.
We are living in a time that without the power of God active within us, the world will turn us upside down! That is why we need to keep close to Jesus and be obedient to Him.
KEEP YOUR CHRISTIANITY SIMPLE AND REAL
New Covenant Christianity is essentially simple, so make sure you do not make it complicated, theological, habitual and/or other religious rituals. Jesus is alive today ~ right now! ~ and He is waiting to speak with you, to lead and guide you so you will have a testimony of what He does for you as a result of your faith and obedience in what He tells you. Know for sure that whatever He tells you will always be confirmed by the principles of Scripture (the Bible) ~ that is why it is very important that we get to know what the Bible says so we will not be deceived by our enemy who is very crafty at twisting Scriptures to give us a different meaning and understanding of what they are saying. Ignorance of the Scriptures opens us up to be deceived! (And a deceived person does not know they are deceived ~ they believe they are right!)
For Christianity to work effectively in us, we have to have a personal and real relationship with Jesus Christ. He chose us first and foremost to have fellowship with Him. He has to be our very best Friend, to have first place in our lives, so we can then prove how wonderful, powerful and victorious Bible Christianity really is.
Keeping close to Jesus is a very real key to keeping one step ahead of the world, the flesh and the devil.
The world, the flesh and the devil are all working strongly to side-track and lead astray from the truth the true followers of Jesus Christ. It is absolutely essential that we keep close to Jesus, as He is the only One Who can give us the victory over all the power of the enemy.
DRAW NEAR TO GOD
"Draw near to God and He will draw near to you" (James 4:8). Keeping close to Jesus means that we have to demonstrate to Him by our actions that we desire Him to be our Lord and Master. Notice that it is then that we see Jesus' response to our desire and actions. He said: "Ask, and it will be given you: seek, and you will find; knock, and it will be opened to you. For everyone who asks receives, and he who seeks finds, and to him who knocks it will be opened" (Matthew 7:7-8). He did not tell us to wait for Him to make the first move.
We have to show Him our earnest desire and then He responds to that desire.
"Delight yourself also in the Lord, and He shall give you the desires of your heart. Commit your way to the Lord, trust ("place confidence in") also in Him, and He shall bring it to pass. He shall bring forth your righteousness as the light, and your justice as the noonday" (Psalm 37:4-6).
May we demonstrate our desire to be close to Jesus ~ and for Jesus to be close to us ~ through our love for Him. When He is our first love then He gets our love and commitment to Him in a way that the Scriptures speak of. We (of our own free will) draw closer to Him. We ask, seek, knock and find. We delight ourselves in Him and then we receive the benefits of such a loving commitment. Consider these verses:
"For I know the thoughts that I think toward you, says the Lord, thoughts of peace and not of evil, to give you a future and a hope. Then you will call upon Me and go and pray to me, and I will listen to you. And you will seek Me and find me, when you search for Me with all your heart. I will be found by you, says the Lord . . ." (Jeremiah 29:11-14, NKJV).
Notice that we have to demonstrate to God by our actions in calling upon Him, praying, and searching for Him with all our heart. God responds to our genuine desire to draw nearer to Him.
May we all have a sincere and growing hunger to live closer to Jesus in these troublesome times, so that we will be able to "let our light so shine before men, that they may see our good works and glorify our Father in heaven" (Matthew 5:16). God bless you mightily this Christmas Season and help you to reveal the reality of Jesus to a lost and fallen world in a positive way. Love in Him ~ Rodney W. Francis.
Bible Reading: 2 Peter Chapter 1
Prayer:"Dear Lord, I come to You in Jesus' name, and I ask You to help me to keep my focus on Jesus so that I can be a God-pleasing person in Your sight. I thank You that You sent Jesus into this world to be my only Saviour and to set me free from a life of sin and separation from You. I ask You to take out of me that which should not be there, and to put into me that which should be there. Help me to be so full of the Holy Spirit that others will see and know that I am a child of God and that they, too, can become a follower of Jesus Christ as a result of the change of life that You have wrought in me. Please keep me free from every fleshly desire and deceiving teaching that would take me away from the Truth of Jesus Christ, the Jesus Christ of the Bible. Thank You, Lord, in Jesus' name I pray these things, Amen."
The Gospel Faith Messenger Ministry, , New Zealand. Email: This email address is being protected from spambots. You need JavaScript enabled to view it.