About Us
(On Wednesday, 17th November 2021,(suddenly) Rodney went home to be with the Lord.)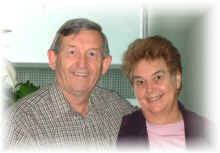 The Gospel Faith Messenger Ministry was born in April 1964 as a means of ministering through literature to people in the country areas of New Zealand. From very small beginnings (27 names and addresses) it has grown to impact multiplied thousands of people in over 230 nations. It commenced with a monthly printed Bible Study Paper, and then extended to one Bible Correspondence Course, then two, then three. To these were added preaching messages on Audio Cassettes, CD's, the producing of Gospel Tracts (17), Books, Booklets and Manuals (39 in all). They have been sent out to many countries and several have been translated into other languages to reach even more people than we can through the English language alone. Thousands of books have been printed and distributed in Kenya, India, Pakistan, Myanmar, Nepal, Italy, China, Ivory Coast, Nigeria, Sudan, Somali, Eritrea, Tanzania, Uganda, Malawi, Mozambique, Burundi and Rwanda (to date) and Gospel tracts are being printed in Malawi.
In 1995 the Founder/Director of The GFM Ministry, Rodney Francis, felt that God spoke to him about the raising up of Prophetic Ministry Teams to teach and release people in the Gifts Of The Holy Spirit (1 Corinthians 12-14) and to pursue the importance of Prophetic Ministry, based upon our ability to hear and recognize the voice of God to us. Since that time, Seminars, Conferences (ceased in 2016), International Training Schools (ceased in 2016), and Prophetic Days have been conducted in a number of countries. All have made an impact upon the people, and many have gone on to develop their Spiritual Giftings and Prophetic Ministries in a wonderful way. Some amazing testimonies are coming out of these times of input.
At the commencement of the year 2000 Rodney and Jean Francis stepped out in faith into full-time ministry with The GFM. They did not raise a financial support base, as they believed that God called them to trust Him. The word they received (sovereignly) was, "If you will trust Me with your life and your future, I will show you what I can do for you . . . Do not raise a financial support base." They knew it was all about going full-time in faith with The GFM. They obeyed, resigned from all their church positions, and have not looked back. Since that time, they have seen the Ministry continually grow. Numbers of doors have opened, supporters have come forth, and the Ministry has entered a "new day" in the purposes of God. Anyone who feels they would like to contribute some support to The GFM or Rodney and Jean can do so by E-Mailing the Treasurer, Russell Fyfe at: This email address is being protected from spambots. You need JavaScript enabled to view it. or writing to him at our Head Office: The GFM Ministry, P. O. Box 57 Paraparaumu 5254, New Zealand. (Gifts for Rodney and Jean's personal use should be designated as such).
The vision of The GFM is to continue to expand on all fronts. Twice monthly The GFM conducts what we call an "Equipping Station" in Hamilton, New Zealand. These have now commenced in Paraparaumu, Rotorua, Napier, and Ashburton, NZ. At least 130 "Equipping Stations" have commenced in Africa. Scores of people are being released in to the Prophetic Ministry.
We minister prophetically as a Team to individuals who travel to our gatherings to be ministered to, and we also make up Prophetic Tapes for those who are unable to come personally. It has been very exciting to receive the feedback from tapes that are made up for people around the world – people we have never met, yet the Holy Spirit shows us what to speak on to the tapes. To Him be all the praise and glory!
As we have grown we have seen the Holy Spirit give pictures, visions and dreams. Some of these have been captured on to paper through writings and drawings, and impact those they are meant for.
In November 2007 Rodney and Jean moved to Paraparaumu on the Kapiti Coast, New Zealand. They have discovered numbers of people who are hungry for more of the Holy Spirit Ministry, and their hands and time are fully utilized in ministering in this harvest field. Rodney still continues to minister nationally as an itinerant minister.
This Ministry is a testimony that someone without a great education, no Bible College training, but growing in the local church scene (where the Prophetic Ministry was welcomed) and then released by God, can rise to fulfil things that we never thought would be possible. What a privilege is ours to be able to touch so many people in so many countries through a simple trust in the word and voice of the Lord Jesus. A major part of The GFM Ministry is its Internet Ministry through The GFM Prayer Support Letter, Barnabas Bulletin, and Faith Messages which reaches many thousands of people annually. The GFM Web Page: www.gospel.org.nz is growing all the time with the numbers of people visiting it. Rodney is also personally mentoring scores of Christian Leaders around the world. The key to this Ministry is summed up in this verse of Scripture, "Whatever He (Jesus) tells you to do, do it" (John 2:5). God bless you as you seek to be more obedient to the voice of Jesus! We believe it is harvest time, and so we must be listening to the voice of the Lord and carry a commitment to do whatever He tells us. That way we cannot lose for winning! The GFM Ministry is run totally on volunteer helpers, some of whom have been with the Ministry for many years. We are very grateful to God for such faithful workers. We have also built a wonderful network with other Christian Ministries that enable us to work together as and where we can. God Bless you!
"The Gospel Faith Messenger" Ministry. , New Zealand. Email This email address is being protected from spambots. You need JavaScript enabled to view it.