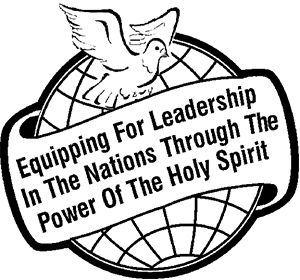 Barnabas Bulletin ~ 0215
ONLY ONE WAY
Jesus said to him, "I am the way, the truth and the life. No one comes to the Father except through Me" (John 14:6, NKJV).
This was Jesus' reply to Thomas' question, ". . . how can we know the way?" (John 14:5).
"Nor is there salvation in any other, for there is no other name under heaven given among men by which we must be saved" (referring to the name of Jesus Christ of Nazareth) (see Acts 4:10-12).
In a day when there is so much mixture, confusion and false teachings about what it means to be a true Christian, we have to know what the Bible clearly teaches. Jesus Christ is the only way, the only truth and the only life through and by which we can come to God. There is no other way. Yet mankind tries to tell us it is about gaining salvation through good works, going to church, etc. None of us are saved by our own works of righteousness. The Bible is clear: "Not by works of righteousness which we have done, but according to His mercy He (Jesus Christ) saved us, through the washing of regeneration and renewing of the Holy Spirit, Whom He poured out on us abundantly through Jesus Christ our Saviour, that having been justified by His grace we should become heirs according to the hope of eternal life" (Titus 3:5-7).
It is very important that we get to know the true Jesus of the Bible. Jesus Himself warned us that there would be false christs and false prophets arising who would try and take us away from the truth.
Jesus said: "Then if anyone says to you, 'Look, here is the Christ!' or 'There!' do not believe it. For false christs and false prophets will rise and show great signs and wonders to deceive, if possible, even the elect. See, I have told you beforehand. Therefore if they say to you, 'Look, He is in the desert!' do not go out; or 'Look, He is in the inner rooms!' do not believe it" (Matthew 24:23-26).
"Now when He (Jesus) was asked by the Pharisees when the kingdom of God would come, He answered them and said, 'The kingdom of God does not come with observation'; nor will they say, 'See here!' or 'See there!' For indeed the kingdom of God is within you'" (Luke 17:20-21).
The kingdom of God is not an outward kingdom, but an inward one ~ Jesus lives inside those who believe, follow, trust and obey Him.
The Apostle Paul said: "But what I do, I will also continue to do, that I may cut off the opportunity from those who desire an opportunity to be regarded just as we are in the things of which they boast. For such are false apostles, deceitful workers, transforming themselves into apostles of Christ. And no wonder! For Satan himself transforms himself into an angel of light. Therefore it is no great thing if his ministers also transform themselves into ministers of righteousness, whose end will be according to their works" (2 Corinthians 11:12-15).
The enemy continually seeks to copy or counterfeit the true Christian life and teaching in his deceptive ways. These warnings are given in the Bible to make us realize that there are many false and deceitful leaders and teachings that are used by Satan to take Christians away from the simple truth and power of our resurrected Jesus Christ. The truth is that it NOW is: "CHRIST IN YOU, the hope of glory" (Colossians 1:27). We cannot remain in our old natural and sinful ways when we truly have Jesus Christ living IN us!
SOME HEART-SEARCHING QUESTIONS
We need to ask ourselves:
Do I truly know that Jesus Christ lives inside of me?

Am I serving the true Jesus Christ of the Bible?

What positive difference has He made in me since He came into my life?

How well do I know "the Holy Scriptures, which are able to make you wise for salvation through faith which is in Christ Jesus. All Scripture is given by inspiration of God, and is profitable for doctrine, for reproof, for correction, for instruction in righteousness, that the man of God may be complete, thoroughly equipped for every good work" (2 Timothy 3: 15-17)?

How good is my daily devotional life with Jesus?

Is the Jesus Christ of the Bible my "Number One" priority? (If not, why not)?
Life becomes so different when the Living Lord Jesus comes to take up residence inside of us. That is where He lives right now ~ inside of you and me! That's why we do not have to go here or there to find Him. He lives in you and me! To know Him better it is simply a matter of seeking Him, searching the Scriptures more, yielding more to Him, listening to Him, and allowing Him to work His will in and through our life.
The warnings would not be in the Bible if there was not an enemy trying to take us off-course. Once we get taken off-course, then we get caught-up in mixture and mixture makes us powerless in our relationship and walk with Jesus Christ in the Holy Spirit. If we have questions or doubts about what we believe, then it is important that we have trusted Christian people and friends that we can ask for an honest opinion ~ with Scriptural evidence ~ of the things we believe. Once deception enters in, then we go on a fast downhill slide further away from Jesus. And deceived people do not know they are deceived. They think they have the truth, even when their believing does not line-up with the principles of Scripture. "All Scripture is given by inspiration of God, and is profitable for doctrine, for reproof, for correction, for instruction in righteousness, that the man of God may be complete, thoroughly equipped for every good work" (2 Timothy 3:16-17). "Let the word of Christ (the true Christ) dwell in you richly in all wisdom, teaching and admonishing one another . . ." (Colossians 3:16). God bless and keep you awake to His purposes ~ Rodney W. Francis.
Bible Reading: 1 Timothy Chapter 4 Acts 4:8-14
Prayer: "Dear Lord, I come to You in Jesus' name, and I ask You to help me to keep my focus on Jesus so that I can be a God-pleasing person in Your sight. I thank You that You sent Jesus into this world to be my only Saviour and to set me free from a life of sin and separation from You. Help me to be so full of the Holy Spirit that others will see and know that I am a child of God and that they, too, can become a follow of Jesus Christ as a result of the change of life that You have wrought in me. Please keep me free from every deceiving teaching that would take me away from the Truth of Jesus Christ, the Jesus Christ of the Bible. Thank You, Lord, in Jesus' name I pray these things, Amen."
The Gospel Faith Messenger Ministry, New Zealand. Email: This email address is being protected from spambots. You need JavaScript enabled to view it.