Barnabas Bulletin ~ 0218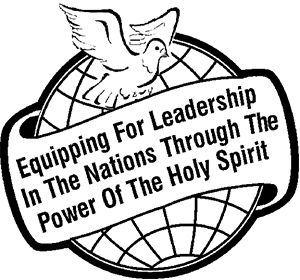 NEEDED THIS HOUR:
THE HOLY SPIRIT POWER
When we search the Scriptures to discover what Jesus taught with regards our need to serve Him it soon becomes evident that having the Holy Spirit in our lives in a real and powerful way is essential. Even the very disciples of Jesus were told that they should not leave town before they were filled and endued with power from on high (Luke 24:49). The word "power" is translated from the word "dunamis" - "Dunamis" is a Greek word and means: "act of power" (Young's); "miraculous power, ability" (Strong's); "natural capability, inherent power; capability of anything, ability to perform anything; then, absolutely, not merely power capable of action, but, power in action" (Bullinger's). "Dunamis" is used 121 times in the New Testament and translated into the following English words: ability (1), abundance (1), meaning (1), might (4), mighty deed (1), mighty work (11), miracle (8), power (77), strength (7), violence (1), virtue (3), wonderful work (1), worker of miracles (1), and mighty (4).
John the Baptist proclaimed the importance of being filled or baptized with the Holy Spirit. He said: "I indeed baptize you with water unto repentance, but He who is coming after me is mightier than I, whose sandals I am not worthy to carry, He will baptize you with the Holy Spirit and fire. His winnowing fan is in His hand, and he will thoroughly clean out His threshing floor, and gather His wheat into the barn; but He will burn up the chaff with unquenchable fire" (Matthew 3:11-12). On the Day of Pentecost the Holy Spirit came with fire: "Then there appeared to them divided tongues, as of fire, and one sat upon each of them (or tongues as of fire, distributed and resting on each). And they were all filled with the Holy Spirit and began to speak with other tongues, as the Spirit gave them utterance" (Acts 2:3-4). The fire works within us to cleanse us from the rubbish of the natural man, and causes us to shine more brightly for Jesus. The more cleansed we are the more brightly we shine for Jesus! The power gives us enablement to proclaim Jesus with signs, wonders and miracles in an anti-Jesus world.
We can see from these meanings that it is very important for us to be endued with power and fire from on high. There is no way we can live the Christian life in our own strength and ability. If the disciples of Jesus needed the "dunamis" power, how much more do we? Just compare where the disciples of Jesus were at when He left to go back to the Father in heaven (Mark 16:9-20) and how positively changed they were after the infilling of the Holy Spirit and power on the Day of Pentecost (Acts 1:8 & Acts 2:1-4). They were transformed and went out boldly declaring Jesus Christ with an indwelling power and fire they had not had within them before. The Bible declares that it is the same Holy Spirit that raised Jesus Christ from the dead (Romans 8:8-14). Let me repeat:
The same Holy Spirit that raised Jesus Christ from the dead now lives inside the Holy Spirit-filled believer!

He is the Spirit of Truth and whatever He tells us is exactly right for us.

When we obey what He asks of us then the "dunamis" power is released to do whatever He tells us to do.

Biblical Christianity is a "signs following ministry" where there is evidence of a living God backing up and confirming the words which we speak/preach.

This generation desperately needs to see evidence of our Living Christ and that evidence mainly is seen through the truth and fact of the Living "Christ in you the hope of glory" (Colossians 1:27-29).
BEWARE OF NEGATIVE TEACHINGS
It is a real tragedy that over the years millions of Christians have been robbed through the teaching that the infilling of the Holy Spirit, speaking in other tongues and the miraculous signs following ministry of Jesus all passed away with the Early Church. Bible knowledge and religiosity without the "dunamis" power of God is not convincing evidence of the principles of the New Covenant Ministry of Jesus Christ.
People need to see miraculous evidence today to be convinced that Jesus is alive from the dead! Hallelujah! I have seen more people saved, filled with the Holy Spirit, speaking in tongues and functioning in the Spiritual Gifts as a result of obeying the Holy Spirit than any other way of ministry. The Holy Spirit knows the individual and specific needs of a person, and when we listen to the Holy Spirit He gives us the right way of ministering to them. People really get impacted when they know it is the Holy Spirit ministering through a Bible-believing Christian.
MAKE SURE THE LIVING JESUS IS LIVING INSIDE OF YOU!
Bible Christianity is much more than having Bible knowledge and attending church services. That is merely religion. It is having the resurrected Jesus Christ living inside of us by the power and fire of the Holy Spirit so others can see and know that He is alive today and can meet their every need. The Bible is clear that if Jesus is not risen from the dead, then our preaching and faith is empty and futile ("having no effective result; unsuccessful; pointless" – Collins English Dictionary) (see 1 Corinthians 15:12-17).
It is very important that we know the principles of what the Bible teaches so we will not be living empty and futile lives because we did not follow through and receive the Baptism of the Holy Spirit and His fire and power. We all need what God has given so we can fulfil our destiny and purpose here on the earth in the power of His mighty Holy Spirit (Ephesians 3:16-21).
This generation desperately needs to see the results of the Living Christ alive in us, so they, too, will know and be convinced of their need of Him and also be filled with the fire and power of His Holy Spirit. Be one of Jesus' powerful witnesses today! God bless you! ~ Rodney W. Francis.
Bible Reading:Acts 4:29-33 Romans 8:14
Prayer:"Dear Lord, I come to You in Jesus' name, and I ask You to help me to know in a greater way the power and fire of the Holy Spirit in my life. Please take out of me what should not be there, and please put into me what should be there, so I can be a true and living witness of the Living Lord Jesus in this day. I desire to totally fulfil the purpose for which You have saved me. Please forgive me for any reluctance to step out and be one of those labourers who actively gathers in Your harvest. Help me to be so full of the Holy Spirit that others will see and know that I am a child of God and that they, too, can become a follower of Jesus Christ as a result of the change of life that You have wrought in me. Thank You, Lord, in Jesus' name I pray these things, Amen."
The Gospel Faith Messenger Ministry, , New Zealand. Email: This email address is being protected from spambots. You need JavaScript enabled to view it.