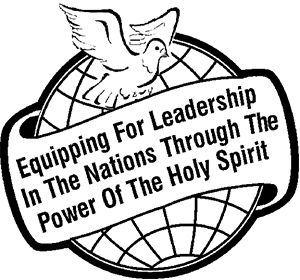 Barnabas Bulletin ~ 0202
MORE ON LOVE
There is so much for us to learn and experience when it comes to the love of God. I had been a Holy Spirit-filled Christian preacher for 16 years and was pastoring a church when God interrupted me one day with these words: "I am going to teach you how to love people." I was shocked and re-acted accordingly, telling God that I did love people, etc. His response was to show me the faces of five or six people who I did not love (they were Christians who criticized my ministry). Following that the Lord spoke and said: "How can a man love God whom he has not seen if he does not love his own brothers and sisters whom he has seen? Your love for Me is only as great as your love for these the least of My brethren"! (See 1 John Chapter 4). It was a moment of truth for me!

I was challenged and had no excuses before God. It left me feeling empty and destitute. I realized that what I thought was love was not love at all. It was love on my conditions, not God's. I cried out to God to teach me how to love people His way. I thought it would be easy, but if I am to be totally honest about it, it took the next 10 years for me to change. Habitual negative thinking did not want to let go of me. Soon after that experience God began sending to me people from all walks of life ~ people I had never related to before. They would pour out their problems to me and ask for help, advice, etc. At the same time I would be crying out on the inside of me, "Please help me, Lord! It is me that needs changing more than them. Help me to love them"!!
LOVE IS THE ONLY TRUE MOTIVATION
Love is the only and true motivation when it comes to Christian ministry. If we are not motivated by love, then other things will creep in and start to dominate, and ministry becomes a business rather than a love ministry to Jesus and people. True love loves God and it loves people. It is through love that Jesus manifests Himself to us. He said: "He who has My commandments (this is more than the 10 Commandments) and keeps ("to watch over, take care of, keep an eye on, observe attentively") them, it is he who loves Me. And he who loves Me will be loved by My Father, and I will love him and manifest ("reveal") Myself to him" . . . "If anyone loves Me, he will keep My word; and My father will love him, and We will come to him and make Our home with him. He who does not love Me does not keep My words; and the word which you hear is not Mine but the Father's who sent Me" (John 14:21-24).
We must always remember that true Christianity is first and foremost a personal and real love relationship with Jesus Christ.

He has to be our very Best Friend, day by day!

Jesus is alive from the dead and is a living reality to all who walk and live in this love relationship with Him.

Out of that relationship true ministry develops and brings forth fruit to the glory of God.
TRUE LOVE IS MORE THAN LOVING CHRISTIANS ~ IT INCLUDES
LOVING EVEN THOSE WHO HATE US.
True love carries with it great responsibilities. Consider what Jesus declared: "But I say to you, love your enemies, bless those who curse you, do good to those who hate you, and pray for those who spitefully use you and persecute you, that you may be sons of your Father in heaven; for He makes His sun rise on the evil and on the good, and sends rain on the just and on the unjust. For if you love those who love you, what reward have you? Do not even the tax collectors do the same? And if you greet your brethren only, what do you more than others? Do not even the tax collectors do so? Therefore you shall be perfect, just as your Father in heaven is perfect" (Matthew 5:44-48; Luke 6:27-36).
We see from the teachings of Jesus that true love is unconditional. When we are criticized, offended and hated by others, we must not return evil for evil. We must forgive them as quickly as we can so we do not build up unforgiveness and resentment within our own heart and spirit ~ otherwise a blockage between us and God happens and we become the loser. For us to conquer in these situations we have to have that love of Jesus working in us that enables us to overcome all the works of the wicked one. Remember: "You are of God, little children, and have overcome them, because He (Jesus) Who is in you is greater than he who is in the world" (1 John 4:4). "For whatever is born of God overcomes the world" (1 John 5:4).
TRUE LOVE GIVES
"For God so loved the world that he gave His only begotten Son, that whoever believes in Him should not perish but have everlasting life" (John 3:16). God so loved the world (us in our fallen sinful state) that He gave of His very best (Jesus) so that we could be changed and transformed through being set free by the blood of Jesus Christ. It was the love of God that moved Him to bring an answer to our hopeless state.
True loves gives of one's very best!
All Christians know how to quote John 3:16, but do we understand the message of God ~ and how it works ~ in that verse? Love gives to help the lowest of the low to rise up and experience the life we now know through Jesus Christ's redeeming love for us. Loves bring security. Love causes others to trust us, because they know we love them. The word "love" from the Greek word "agape" means "the love which springs from admiration and veneration, and which chooses its object with decision of will, and devotes a self-denying and compassionate devotion to it. Love in its fullest conceivable form" (Bullinger's Concordance). There is nothing greater than the love of God working in and through our lives to touch those all around us. This is more important than ever, for we are living in a love-starved world and multitudes need to know the purpose that caused the love of God to send Jesus Christ to suffer in this world and to save us from all our sins. Are you learning to walk in that love right now? It is the key to your life, ministry and future. God bless you. ~ Rodney W. Francis.
Bible Reading: 1 John 3 1 John 4 1 John 5
Prayer: "Dear Lord, I come to You in the name of Jesus Christ, and I ask You to teach me how to love others more than I do right now. You know my need for more love and I am asking You to help me to understand what it means to truly love, and to be able to express it in a way that pleases You. Thank You, Lord, for hearing and answering my prayer. In Jesus' name I pray it, Amen."
The Gospel Faith Messenger Ministry, New Zealand. Email: This email address is being protected from spambots. You need JavaScript enabled to view it.