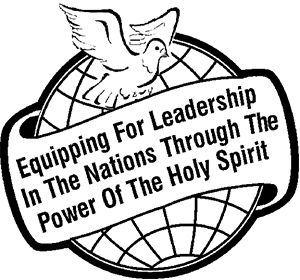 Barnabas Bulletin ~ 0201
GOD AND YOU ARE A MAJORITY!
What an awesome privilege is ours to know and walk with God through His Son (Jesus Christ) in the power of the Holy Spirit. Wherever we are, and wherever we go, God the Father, God the Son and God the Holy Spirit go with us, because the Mighty Trinity lives inside every truly born-again, Holy Spirit-filled believer in Jesus Christ. The more we know Who "Christ is in us, the hope of glory" (Colossians 1:27), the more we will conquer the opposition that comes against us. Our opposition comes in many different forms, i.e. through the world, the flesh and the devil, as Christianity is a very different life-style to anything else we have ever known. Every great man and woman in the Bible went through trials and afflictions as the enemy tried to discourage and 'close them down' before they fulfilled their destiny in God. Think of David and Joseph, who were opposed and persecuted and rejected by their very own families. That is a very difficult one to work through. Today it can be our spiritual family as well as our natural family. God allows these oppositions to come against us as He uses them to refine us and prepare us for that which is ahead. We have to quickly learn to forgive and not hold any grudges against those who persecute us; otherwise we will finish up as the loser. God has chosen us to be victorious and to be true winners through the indwelling Christ and the power of the Holy Spirit. When I think back over the years of all the things we have been through, I can see the hand of God has used those times to help us to get where we are today. We must not make the mistake of thinking that when we know the will of God for our own life, that other Christians will always understand and accept what we tell them. Knowing God's will for my life has enabled me to know what to say "Yes" to and what to say "No" to. Some people can be quite strong when they think you should be doing something different. We must not let others talk us out of what God has talked us into!
DAVID
When God told the prophet Samuel to go and anoint one of Jesse's sons to be king over Israel, David was not even considered by his father and was left at home caring for the sheep. After seven sons of Jesse passed by Samuel, Samuel was puzzled because God had said "No" to every one of them. He enquired of Jesse if he had any more sons and he found out that there was one more – a young boy at home (who had not even been considered as suitable)! David was fetched and Samuel got the go-ahead from God that he was the one and so he anointed David. Later when David went to give his three older brothers (who were in Saul's army and fighting against the Philistines) some food, he saw Goliath challenging the army of Israel ~ and the Israelite army running to hide from him. When David told them that he would go and fight against that giant, it was his older brothers who derided him and scoffed at him and told him he was interfering, should not be there, 'who do you think you are?' etc. Finally word came to King Saul that David was willing to go and fight Goliath. Saul tried to load David down with his own armour ~ which he himself was unwilling to put on and go and face Goliath! David rejected it and went out with a confident trust in the Lord that God would give him the victory. We know the result:
With a simple sling and stone David defeated Goliath and turned defeat into victory for the whole of Israel! David with God ~ and not one other person bold enough to stand with him. David and God were a majority! (see 1 Samuel chapters 16 & 17).
JOSEPH
Joseph dreamed a dream that God was going to use him to bring about a great deliverance. When his natural brothers heard of Joseph's dream they laughed at him and turned against him, eventually selling him into Egypt, where he finished up in prison falsely accused. God used all this to get Joseph where He wanted him, and the day came when Joseph was released and promoted to one of the highest positions in Egypt. There he brought wisdom and advice which helped the people to survive the years of drought. Even his own family came for food and, on their second visit Joseph was made known to them. That really shook them up. The end result of this was that Joseph's dream was proven to be of God and was fulfilled. Joseph and God were a majority! (see Genesis chapters 37 to 50 for the story of Joseph – well worth reading).
Many Christians are put-off serving God in a full-time capacity because they shrink from the opposition that comes from such a desire. That is why it is so important that every Christian personally knows the will and calling of God on their life. If we do not know God's will, then we are going to be persuaded by others to do something different to God's will and plan for us. According to the Bible, persecution and opposition are 'par for the course' for totally-committed Christians: "Yes, and all who desire to live godly in Christ Jesus will suffer persecution" (2 Timothy 3:6). As we stand faithful and true to our high calling in Christ Jesus, He will turn these negative happenings against us into positive opportunities so we can progress in His purposes. As we yield it all to Jesus He turns what could be 'stumbling-blocks' into 'stepping-stones' and so we move forwards in a greater realm of victory than we experienced prior to those negative attacks against us. We have to know who we are in Jesus Christ. Then we can know the truth of the Scripture: "And we know that all things work together for good to those who love God, to those who are the called according to His purpose. For whom He foreknew, He also predestined to be conformed to the image of His Son, that He might be the firstborn among many brethren. Moreover whom He predestined, these He also called; whom He called, these He also justified; and whom He justified, these He also glorified. What then shall we say to these things? If God is for us, who can be against us? He who did not spare His own Son, but delivered Him up for us all, how shall He not with Him also freely give us all things?" (see Romans 8:26-39 for the fuller message). Did you get that?
IF GOD BE FOR US, WHO CAN BE AGAINST US?

IS GOD FOR US? YES! YES! YES!

DO YOU KNOW THAT GOD AND YOU ARE A MAJORITY?
Consider this: "You are of God, little children, and have overcome them, because He who is in you is greater than he who is in the world" (1 John 4:4).
Knowing this truth enables you to rise up and fulfil your calling and destiny in God. Rise up today, Conqueror! You are called and chosen of Him to be a winner! ~ Rodney W. Francis.
Bible Reading: Romans 8 Ephesians 3
Prayer: "Dear Lord Jesus, please help me to believe more that wonderful truth of Your word that You are for me and that I can live an overcoming life day by day. Help me to know my calling in You more clearly so I can fulfil my destiny more fully on this earth today. Thank You! In Jesus' Name I pray this, Amen."
The Gospel Faith Messenger Ministry, , New Zealand. Email: This email address is being protected from spambots. You need JavaScript enabled to view it.