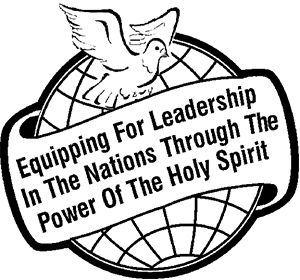 Barnabas Bulletin ~0192
THE WORD BECAME FLESH!
"And the Word became flesh and dwelt among us, and we beheld His glory, the glory as of the only begotten of the Father, full of grace and truth" (John 1:14).
At this time of the year (December) our thoughts are toward Christmas. To the Christians it is a time of the year when we reflect upon what the coming of Jesus Christ into this world means to us. Jesus came to set us free from the power of sin and separation from a loving Heavenly Father. We miss out on so much when Jesus is not Lord of our lives. He desires to be our very best Friend, One Who will lead and guide us every day of our lives.
Until we invite Jesus to come into our heart and life, we will never understand the purpose of His coming to this earth.

He came to bring the reality of God to us in such a way that "we know that we know" He is a living reality today.

He causes us to be born-again by the Holy Spirit of God so we can communicate spirit to Spirit with Him.

What a positive difference it makes when Jesus comes into our hearts and lives in reality!

Have you invited Him in yet, and made Him Lord of your life?
He wants to come and "dwell among us" so we can "behold His glory" and know that He is "full of grace and truth." It has been the best thing I have ever done in my whole life ~ to yield my life to Him. I'm so glad I yielded to Jesus at an early age (17), for it has enabled me to fulfil the call of God on my life over more than 55 years of following and obeying Him. The benefits of serving Jesus are "out of this world" and we also have the promise of spending all eternity with Him in His presence. Hallelujah!
Nothing can compare to that which Jesus came into this world to provide for us.

He came to identify Himself with us and in every aspect of life from birth to death!
The Word (Jesus) was not an abstract concept of philosophy, but a real Person Who could be seen, touched and heard. Christianity is Christ ~ "Christ in YOU the hope of Glory" (Colossians 1:26-29) ~ and Christ is God!
Sadly, the world tries to ignore the Christ of Christmas and has counterfeited Jesus for all sorts of other things that have no affect whatever in giving us an eternal assurance with Jesus (whatever one's views on Christmas are, to me every day is an opportunity to serve Jesus Christ and to share Him with others). It is time for our generation to "Seek the Lord while He may be found, Call upon Him while He is near. Let the wicked forsake his way, and the unrighteous man his thoughts; Let him return to the Lord, and He will have mercy on him; and to our God, for He will abundantly pardon" (Isaiah 55:6-7).
"We then, as workers together with Him also plead with you not to receive the grace of God in vain. For He says: 'In an acceptable time I have heard you, and in the day of salvation I have helped you'. Behold, now (today!) is the accepted time; behold, now (today!) is the day of salvation" (2 Corinthians 6:1-2). Let us all be awake to the opportunities that come our way so we can share Jesus with others. This is so important because Jesus is the only Answer to humanity's need of deliverance from sin and separation from the Living God: "Nor is there salvation in any other, for there is no other name given among men by which we must be saved" (Acts 4:9-13). That name is JESUS CHRIST!
When Jesus is Lord of our lives, we experience what it means to have life and life more abundantly (John 10:10).

With Jesus alive in our heart we do not need artificial stimulants to give us joy; it is resident within us where Jesus dwells. Hallelujah!

This is all a part of the purpose and result of "the Word becoming flesh and dwelling among us."
When Jesus is Lord and living inside of us we do not need religious beliefs, practices and theories to trust in.

Jesus is the Real, Living Word of God Who comes to take up residence inside of us.

Have you given Jesus the room and space in your life that He so desires?

Do not put it off any longer.

Today, listen to Him and yield your all to Him, so He can be all that the Word of God promises us.
God has a very real purpose as to why He sent His only Son, Jesus Christ, into this world to pay the price for the ransom of our lives, so we might know the joy of sins forgiven and a whole new way of life through knowing and following Jesus. He says to us all: "Follow Me, and I will make you fishers of men" (Matthew 4:19). He "makes us" whole: body, soul and spirit. He gives us a whole new way of life and living, but it can only become a reality in our lives after we yield our all to Him. Ask Him to come and take over your whole life today. You will never regret it. In fact you will wish you had done it years ago once you have experienced the new life that Jesus came to give you. Do not hold back! Do not make excuses! Do not look at your past failures!
Jesus is right here right now ~ today! ~ waiting for you to open up your heart and to invite Him in.
May this Christmas Season prove to be the best in your life as you endeavour to let that Word Who became flesh and now lives inside of you to be released out of you to touch other lives for the glory of Jesus Christ. He is still the ONLY ANSWER to this world's needs! God bless you! ~ Rodney W. Francis.
Bible Reading: John 1 Philippians 2:5-16
Prayer: "Dear Lord, I come to You in the Mighty Name of Jesus Christ, and ask You to help me to give You Your rightful place in my heart and life. Help me to be more sensitive to Your voice and purposes. Help me to know the benefits of a life totally yielded to You, so that others will see and know that You are Lord of my life, and that You are now living inside of me ~ The Word become flesh in ME! I long to know You better, to serve You better, and to be obedient to You in all things. In Jesus' Name I pray these things, Amen."
The Gospel Faith Messenger Ministry, New Zealand. Email: This email address is being protected from spambots. You need JavaScript enabled to view it.