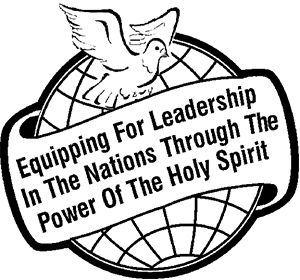 Barnabas Bulletin ~ 0249
BEING STRONG IN A TROUBLED WORLD
We are living in a rapidly changing world; and sadly it is mostly not for the better. Christians are in a real privileged position in knowing Jesus Christ as we are able to keep close to Him and allow Him to guide us through every trial and tribulation that comes against us in an anti-Christ society. Right throughout the Bible the true followers/disciples of God had to face things that were not enjoyable or easy. Yet God was faithful with them in their sufferings and brought them through them as much better people than when the sufferings started. We live in a world that does not understand the true Christian life, and therefore they speak and act negatively against us.
So, what should our attitude and stand be in such times? The Apostle Paul went through many trials of affliction, but he learned to rejoice in them and give glory to Jesus in spite of them: "And He (the Lord) said to me, 'My grace is sufficient ("to ward off, keep off; be strong enough") for you, for My strength ("dunamis" – "power to do anything") is made perfect in weakness ("feebleness").' Therefore most gladly I will rather boast in my infirmities ("want of strength, weakness; hence, feebleness, sickness") that the power ("dunamis") of God may rest upon me. Therefore I take pleasure in infirmities, in reproaches ("wanton violence, injurious treatment"), in needs, in persecutions, in distresses ("anguish"), for Christ's sake. For when I am weak, then I am strong" (see 2 Corinthians Chapter 12).
He also declared: "I know how to be abased ("to make or bring low, to humble"), and I know how to abound ("to be over and above, more than enough; to make or cause to abound"). Everywhere and in all things I have learned both to be full and to be hungry, both to abound and to suffer need. I can do all things through Christ Who strengthens me" (Philippians 4:12-13).
"Who shall separate us from the love of Christ? Shall tribulation, or distress, or persecution, or famine, or nakedness, or peril, or the sword? As it is written: 'For Your sake we are killed all day long; we are accounted as sheep for the slaughter.' Yet in all these things we are more than conquerors through Him Who loved us. For I am persuaded that neither death nor life, nor angels nor principalities nor powers, nor things present nor things to come, nor height nor depth, nor any other created thing, shall be able to separate us from the love of God which is in Christ Jesus our Lord" (Romans 8:35-39).
WE WILL FACE INCREASING OPPOSITIONS
The Bible makes it very clear that there are all kinds of opposition that comes against the true disciple of Jesus Christ ~ and that God is with us to deliver and keep us as we go through those times.
God does not shelter us from the difficulties of life, because we need them for our spiritual growth.
We have to know surely in our hearts that God is with us, and as we keep our trust in His love for us, then we know His indwelling love in a very real and powerful way. It is vital that we maintain a good
relationship with Jesus and knowing Him in a real and personal way. He is alive today and has promised to "never leave us, nor forsake us" (Hebrews 13:5).
We need to also make sure that we have good Christian believers around us who can encourage, pray for, and believe God with us as we go through such times.
Jesus said: "Assuredly, I say to you, whatever you bind on earth will be bound in heaven, and whatever you loose on earth will be loosed in heaven. Again I say to you that if two of you agree on earth concerning anything that they ask, it will be done for them by My Father in heaven. For where two or three are gathered together in My name, I am there in the midst of them" (Matthew 18:18-20). With Jesus in our midst we will come through these negative times with His victory in our hearts. Hallelujah! He suffered, and so will we: ". . . let us lay aside every weight ("incumberance"), and the sin which so easily ensnares us, and let us run with endurance ("to keep one's ground, hold out") the race that is set before us, looking unto Jesus, the author ("originator") and finisher ("perfecter") of our faith, who for the joy that was set before Him endured the cross, despising the shame, and has sat down at the right hand of the throne of God. For consider Him who endured such hostility ("a speaking against or in opposition") from sinners against Himself, lest you become weary and discouraged in your souls" . . . "Therefore, since we are receiving a kingdom which cannot be shaken, let us have grace, by which we may serve God acceptably with reverence and godly fear" (Hebrews 12:1-3, 28).
It is clear that true Christians suffer all kinds of opposition. The devil is active and seeks to discourage and bring us down. But he is a loser because Jesus conquered him through His death, burial and resurrection. We have the precious blood of Jesus to protect and give us the victory. Hallelujah! "As you therefore have received Christ Jesus the Lord, so walk in Him, rooted and built up in Him and established in the faith, as you have been taught, abounding in it with thanksgiving" (Colossians 2:6-7).
Keeping a joyful and thankful heart is very important in these times. Remember, we have a great salvation in Jesus, and an eternal future with Him. He is with us every step of the way! "But may the God of all grace, who called us to His eternal glory by Christ Jesus, after you have suffered a while, perfect, establish, strengthen and settle you" (1 Peter 5:10).
"You are of God, little children, and have overcome them (every anti-Christ spirit), because He who is in you is greater than he who is in the world" (1 John 4:4).
May we all recognize that there is a price to pay to be a true disciple of Jesus Christ ~ but it is worth it all, as His life now living in us has changed us to be new creations in Him, and has given us total forgiveness, and a joy, contentment and fulfilment that we can get no other way. Keep close to Jesus and you will be amazed at what He will do for you. God bless you ~ Rodney W. Francis.
Bible Readings: Acts 14:19-22 John 14:27 1 Peter 5:7
Prayer: "Dear God, I come to You in the Mighty and All-Powerful, All-Conquering Name of Jesus Christ Your Beloved Son, and I thank You for what You have accomplished for me through Your death, burial and resurrection. Please help me to stand strong with and for You when I go through my times of suffering afflictions and opposition. I desire to be a true disciple of You, and to be that bright and shining light in a world of darkness that You have enabled me to be (Matthew 5:14-16). I long to live and walk in Your victory every day, no matter what comes against me. I submit myself afresh to You so that Your will will be fully done in my life. In Jesus' Name I thank You for all You have done for me, and for all that You will do for me in the times ahead. In Jesus' Name I pray these things, Amen."
"The Gospel Faith Messenger" Ministry. New Zealand. Email This email address is being protected from spambots. You need JavaScript enabled to view it.