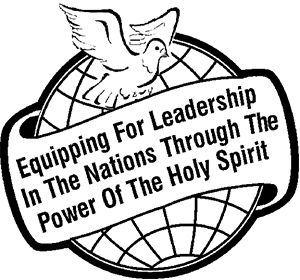 Barnabas Bulletin ~ 0232
WHAT CONTROLS YOU?
Your problems ~ or the Promises of God? We are living in a time when so many things are out of control. The numbers of people E-Mailing, contacting or writing to us are on the increase that tell us of their problems and how they cannot seem to cope in them. This is a day when we need to be pressing in closer to Jesus Christ and believing His word and promises more than the circumstances that try and pull us down. Jesus came into this world and overcame the world, the flesh and the devil by doing His Father's will. We can do the same when we are fully committed to the Lordship of Jesus Christ. Know this, dear Christian, that God the Father, Jesus Christ the Son and the Mighty Holy Spirit Who raised Jesus from the dead, all dwell inside the true Christian. When we are yielded to that Mighty Triune (Three in One) God, then we can only be overcomers against every kind of opposition that comes against us. "Many are the afflictions ("to break, to break in pieces; to do ill; to afflict; bruise") of the righteous; but the Lord delivers ("snatches or takes away") us out of them all" (Psalm 34:19).
Jesus came to give us the victory ~ to so transform our lives so that we can experience and enjoy that "life and life more abundantly" (John 10:10) that He purchased for us through His death, burial and resurrection.
He lives today ~ right now! ~ to be with you, and to give you whatever you need to live that victorious life for Him.
He has promised to "never leave you, nor forsake ("to leave behind in any place or state, leave in the lurch, desert" – Bullinger's) you" (Hebrews 13:5).
The Bible is full of great and precious promises. Consider these verses: "Grace and peace be multiplied to you in the knowledge of God and of Jesus our Lord, as His divine power (from the Greek word "dunamis" – meaning "capability of anything, ability to perform anything; power in action") has given to us all things that pertain to life and godliness ("the opposite of religion; it relates to real, true, vital and spiritual relation with God"), through the knowledge of Him Who called us by glory and virtue ("force, strength – of mind or body" ~ Young's; "excellence, praise" ~ Strong's; "superiority in every respect; thus, spoken of God; then, in a moral sense that which gives man his worth, his efficiency, his moral excellence; hence, good quality, excellence of any kind" – Bullinger's), by which have been given to us exceedingly great and precious ("valued, prized") promises ("the thing promised"), that through these you may be partakers ("partner, companion") of the divine nature, having escaped the corruption ("depravity") that is in the world through lust. But also for this very reason, giving all diligence ("speed, haste, zeal"), add to your faith virtue, to virtue knowledge, to knowledge self-control, to self-control perseverance ("patience"), to perseverance godliness, to godliness brotherly kindness, and to brotherly kindness love. For if these things are yours and abound, you will be neither barren nor unfruitful in the knowledge of our Lord Jesus Christ" (see 2 Peter Chapter 1). (Take some time to meditate upon what is being said here). Jesus has given to us all that we need to be able to live the overcoming life for His praise, honour and glory. Believe His promises to you, press in closer to Him, rise above those negative things that are trying to control you.
Remember that we Christians have benefits and advantages over those who know not Jesus Christ. They have nothing more than their own weak fleshy minds and bodies that do not provide them with the true answers to life ~ but we Christians now have Jesus and the Godhead dwelling inside of us ~ all are Great Conquerors! When we yield totally to the Lordship of Jesus Christ we discover that His power works in us in such a way that we can overcome everything that is trying to defeat and control us. We especially need to know that those negative things that have happened to us in our earlier years, i.e. rejection, abuses of all kinds, criticisms, etc., can all be put behind us when we lay them all on God's altar and give them over to Him; and leaving them there with Him and accepting His cleansing blood, grace and forgiveness. When we do that we are then free to step into a new day of living in His love and victory.
CONTROLLED BY PAST HAPPENINGS
Over the years I have counselled numbers of women who have carried hurts from the past for years, especially sexual abuses, who when they get to the time of going through the change of life, feel an urge to commit suicide. The enemy has robbed them of many years of victorious living, because they have been made to feel that it was all their fault, or the predator was a family member and they could not speak to anyone about it, etc. It left them with a wounded spirit (see the article "A Wounded Spirit" on our Website ~ one of our most read articles). When that spirit was healed, they stepped into a new season of life and victory with Jesus and were able to put the past behind them ~ no longer bound/controlled by the events of the past. There is no problem that is too big for God to handle and take care of. Give it all to Him.
FEAR IS A CONTROLLER
One of the biggest enemies that Christians battle with is fear. Fear comes in many different forms. When there is fear in our heart then that fear controls us. It actually takes the place of Jesus Christ in our life. Fear dictates to us what we can and cannot do. God's answer to fear is His love alive in our hearts. "God is love, and he who abides in love abides ("dwells, remains, stays") in God, and God in him. There is no fear in love; but perfect ("complete, full") love casts out fear, because fear ("terror, fright, dismay") involves torment ("punishment, i.e. a cutting off"). But he who fears has not been made perfect in love" (see 1 John Chapter 4).
If you are conscious of any fear in your life, then it is important that you face it, give it over to Jesus and leave it there with Him. Ask Him to teach you how to love others much more (for we only love God as much as we love people ~ 1 John 4:20-21). When the love of Jesus is stronger than any and every fear that comes against us, then life takes on a much more positive reality and experience. So much of the world's way is to control people through fear tactics. But when God's love fills our hearts, then it amazes us that we no longer fear those things that we used to fear. Remember, Jesus has the Answer to every problem we face and that tries to control us. In Him we have the victory ~ so much so that we can live in that victory every day through abiding in Jesus and His love. Keep abiding close to Jesus and you will know more fully what He has saved, chosen and commissioned you to do in this life. God bless you. ~ Rodney W. Francis.
Bible Readings: Hebrews 4:12-16 Hebrews 13:20-21
Prayer: "Dear Lord Jesus, Help me to be more fully believing Your promises to me, so that I can live in the total victory that You came into this world to provide for me. I lay all those things that are controlling my life ~ or are trying to control me ~ on to Your altar. I give them all to You, and ask for Your cleansing blood to cleanse and heal me of all the negative effects those things have had on me. Please heal my wounded spirit so that I can be a whole person for Your praise, honour and glory. Thank You, Lord, for hearing and answering my prayer. I ask this in Jesus' Name. Amen."
The Gospel Faith Messenger Ministry, New Zealand. Email: This email address is being protected from spambots. You need JavaScript enabled to view it.