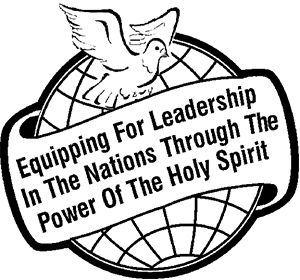 Barnabas Bulletin ~ 0208
WHAT GOD GIVES, WE NEED . . .
Because mankind is hopelessly lost without God, we need to take heed to what He (God) has provided for us so that we can be found and live a life that is glorifying to Him, and profitable for mankind. The greatest gift God gave us is His Son, Jesus Christ, Who came into this world to save us from our lost, sinful state and to bring us into right relationship with God. Jesus' sacrifice on Calvary's Cross, His death, burial and resurrection have all been so perfect that the result of that is that we who are born-again of the Holy Spirit have now become the temples of the Living God. That means that right now God the Father, Jesus Christ the Son, and the Blessed Holy Spirit are all living within us (1 Corinthians 6:19-20). What a tremendous transformation has taken place within us as a result of what Jesus came and accomplished! Hallelujah!
WATER BAPTISM
Once we have been born-again by the Holy Spirit, we are commanded to be baptized in water (by total immersion) (Mark 16:16; Acts 2:38). This act of obedience is an outward expression that we have been cleansed and made anew by the workings of Jesus Christ that have taken place within us. It also gives us "a good conscience toward God" (1 Peter 3:21).
THE HOLY SPIRIT BAPTISM AND SPEAKING IN OTHER TONGUES
We are then exhorted to receive the gift of the Holy Spirit. This is a very real experience where the Holy Spirit comes into us and fills us with a power that we did not have before (Acts 1:8). This is a different experience to our getting saved and born-again by the Holy Spirit. The sign that we have received the baptism in the Holy Spirit is that we get a new heavenly language called speaking in other tongues (Acts 2:1-4). Tongues enables us to speak "spirit to Spirit" with God and is a key to our being able to "build up and edify ourselves" (1 Corinthians 14:2-5; Jude 20). Tongues are a spiritual weapon whereby we can converse with God, pray through burdens, prayer requests, etc., and the devil does not know what we are talking about. At the same time as we are speaking to God in tongues we are also building our own spirit up. Praise the Lord! Speaking in tongues by-passes the intellect ~ it is a spiritual communication directly with God. It is no wonder, then, that there has been such a lot of controversy and opposition in Christian circles over the years against speaking in other tongues. It is because people believe their own intellectual understanding rather than accepting the truth of the Word of God. The Apostle Paul knew the value of speaking in other tongues, for he said: "I thank my God I speak with tongues more than you all" (1 Corinthians 14:18). And we all agree that Paul had a very effective and fruitful ministry. And so can we.
Speaking in other tongues was a key he (Paul) had discovered in God and used the gift to advantage! If these things were not in the Bible, then they would not be important for us. But they are very Scriptural and are given to us by God to enable us to live for His glory and to accomplish His purposes here on earth.
One only has to study the lives of the disciples of Jesus before and after the Day of Pentecost experience to see what a positive and tremendous change was wrought in their lives as a result. They were changed from fearful, unbelieving believers, into mighty men of God who went out and proclaimed the truth of Jesus Christ in the "dunamis" power of the Holy Spirit. It was recorded of them that they "turned the world upside down" (Acts 17:6)! The Holy Spirit infilling is for us to be involved and committed to the service of God in the earth. Every Christian should be involved in helping to fulfil the Great Commission as recorded in Mark 16:15-20.
THE NINE SPIRITUAL GIFTS
With the Holy Spirit alive in our hearts we also have access to the nine beautiful gifts of the Holy Spirit (1 Corinthians 12:7-11). It is God Who has made these gifts available to us and we neglect them to our loss. It also means we deprive many other people of the benefits of the gifts operating, for they are all a "now word and/or happening" from God to those He speaks to through us exercising those gifts. The Christian Church has suffered hugely through its ignorance and neglect of the place of the Spiritual Gifts operating in today's world. We are told to "earnestly desire" them (1 Corinthians 12:31; 1 Corinthians 14:1, 12, 39); that means we have to give ourselves to seeking them in such a way that we will be actively releasing them out of our lives to bless and build up others. The desire has to be stronger than all the negative things that others will say to us, i.e. that they are not for today, etc. That is not true. They are definitely needed to be operating in this hour of time.
To help us to be effective witnesses unto Jesus, God has given us nine beautiful Gifts of the Holy Spirit to enable us to minister prophetically under the anointing of the Holy Spirit in the doing of His will. Now that we are temples of the Living God there should be some supernatural evidence of that in our lives. The Gifts of the Holy Spirit help to bring that supernatural evidence. So much more happens when we are led and guided by the Holy Spirit ~ and we are obedient to that guiding. Whatever God gives us we need to know it is very important and we should be doing our part to make sure we are ready and available to Him to use what He has given. For me, the operation of the Gifts of the Holy Spirit in and through my life, have been "door openers" to enable me to touch lives where, otherwise, it would not be possible.
Dear Reader, make very sure you are born-again by the Holy Spirit, baptized in water and in the Holy Spirit, speaking in the language of the Spirit. If you are not sure of any of these things, I urge you to seek out a Holy Spirit-filled believer in Jesus Christ and ask them to pray for you, baptize you . . . whatever the need. God is waiting to meet you when you "earnestly desire and seek Him". His heart's desire for you is that you are filled with His Holy Spirit power, knowing you are His temple and are available to go wherever He leads you. He has promised to never leave you nor forsake you (Hebrews 13:5). God bless you ~ Rodney W. Francis.
Bible Reading: Romans 8:1-14 Ephesians 3:14-21
Prayer: "Dear Lord, I come to You in the Mighty Name of Jesus, and I ask You to help me to keep my relationship and walk with You according to what You have given me. Help me to see and understand more clearly what You have given so that I may be an effective and fruitful witness of Jesus Christ and His miraculous word and works. Help me to be totally set free of anything man teaches that is not in accordance to what You have said. My desire is to be a God-pleaser more than a man-pleaser. Thank You, Lord Jesus! In Jesus' Name I pray these things, Amen."
The Gospel Faith Messenger Ministry, New Zealand. Email: This email address is being protected from spambots. You need JavaScript enabled to view it.