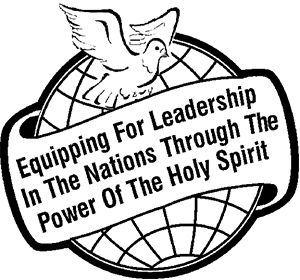 BARNABAS BULLETIN ~ 0204

LIVING EPISTLES OF CHRIST!
There is no doubt that the Bible contains many challenges for the Christian believer. The question is: "How well do we believe what God says to and about us?" In 2 Corinthians Chapter 3, we have some truth given to us about who we arenow in Christ as Holy Spirit-filled believers. It tells us that Jesus Christ has made us "epistles ("letters") written in our hearts, known and read by all men; clearly you are an epistle of Christ, ministered by us, written not with ink but by the Spirit of the living God, not on tablets of stone but on tablets of flesh, that is, of the heart . . . not that we are sufficient of ourselves to think of anything as being from ourselves, but our sufficiency is from God, who also made us sufficient as ministers of the new covenant, not of the letter but of the Spirit; for the letter kills, but the Spirit gives life" (v. 2-6, NKJV).
How well do we believe these statements about who Christ has made us to be right NOW? Jesus has made us His living epistles! When people see us they should see a clear witness of the grace and work of Jesus Christ that has already taken place within us. This happens when the Holy Spirit takes up residence within us.
Can we comprehend what it means for our body to be the temple of the living God?

God the Father, Jesus Christ the Son, and the Blessed Holy Spirit have all come and taken up residence within us.

That means that wherever we go, God the Father, Jesus Christ the Son and the Holy Spirit all go with us.

That means anything is possible if we are available to be led by the Holy Spirit of God. Not just some things, but anything! No limits, except the ones we place on ourselves!

Do you believe that?
We have been made sufficient ("able") ministers of the new covenant ~ that covenant which Jesus came to reveal when He fulfilled the old covenant and ushered in the new. It is not about keeping religious commandments or traditional observances, but a personal living relationship with God the Father, Jesus Christ the Son and the Blessed Holy Spirit! That is why it is so important that Christians know what it means to be filled with the Holy Spirit. He has been sent by Jesus to reveal the things of God to us (see John Chapters 14, 15 and 16).
Without Him in our life we cannot understand or comprehend the things that be of the Spirit of God (1 Corinthians Chapter 2).
This is one of the main reasons why so many Christians are powerless in their Christian walk; they have not received the "dunamis" power of God the Holy Spirit into their lives personally (see Luke 24:49; Acts 1:8; Acts 2:1-4). Too many Christians are still locked into an old covenant mind-set which puts a veil on their hearts (2 Corinthians 3:13-16).
Notice what the Bible declares: "Nevertheless when one turns to the Lord, the veil is taken away. Now the Lord is the Spirit; and where the Spirit of the Lord is, there is liberty ("freedom" – Galatians 5:1).But we all, with unveiled face, beholding as in a mirror the glory of the Lord, are being transformed into the same image from glory to glory, just as by the Spirit of the Lord" (2 Corinthians 3:16-18).
When the Holy Spirit is alive in our hearts then He reveals the reality and glory of Jesus to us, in us and through us for others to see the amazing transformation that has taken place ~ and continues to transform us from glory to glory.
People (generally speaking) are not reading the Bible; they are watching professing Christians! And if they do not see any reality of the grace and workings of God in our lives, how can they believe on Jesus Christ?We are His epistles, known and read by all men! (2 Corinthians 3:2). Having the reality of Jesus Christ living within us makes us different to everyone else in the world.
In Colossians Paul calls this "the mystery ("secret or hidden truth") which has been hidden from ages and from generations, but now has been revealed to His saints. To them God willed to make known what are the riches of the glory of this mystery among the Gentiles: which is Christ in you, the hope of glory. Him we preach, warning every man and teaching every man in all wisdom, that we may present every man perfect in Christ Jesus. To this end I also labour, striving according to His working which works in me mightily" (1:26-29).
He has so worked within us that we are now new creations ~ we now should be very different to the way we were before yielding to Jesus Christ.
Now we have Jesus Christ in all His resurrection power and glory living inside of us!!

Do we believe these wonderful truths that have already been accomplished in the Holy Spirit-filled believer on Jesus Christ?

Christianity is not a set of religious beliefs, but a personal daily relationship with Jesus through the indwelling Holy Spirit. As we walk with Him daily, He (the Holy Spirit) continues to reveal more of Jesus to us. He is amazing!
When we are walking and living in this personal relationship with Jesus Christ then we are capable of anything to God's glory. The more we yield to Him, trust Him and believe Him, the more He can use us in supernatural ways. You are what your believing is in what God has done and declared for you. Believe God! Believe what He has said and done for you! His word is truth! YOU are a living epistle of Jesus Christ! Let it happen more and more! God bless you. ~ Rodney W. Francis.
Bible Readings: Ephesians 1:13-23 Ephesians 2:1-10 Colossians 2:6-15
Prayer: "Dear God, I come to You in the name of Your only Begotten Son, Jesus Christ, and I thank You for making the way of Salvation available to me through the shed blood of Your Son, Jesus. Please help me to believe what you have accomplished for me through your death, burial and resurrection, so that I may live very positively in the light and victory of that which Jesus purchased for me at Calvary's Cross. Help me to deal with unbelief more and more, so that You will indeed be the Glorified Lord in all my life, and everything I possess and do. I lay it all on Your altar now, so that I can live in the full victory which You have provided for me. In Jesus' name I thank You for Your love and commitment to me. Praise You, Lord. In Jesus' Name I pray these things, Amen."
The Gospel Faith Messenger Ministry, \, New Zealand. Email: This email address is being protected from spambots. You need JavaScript enabled to view it.