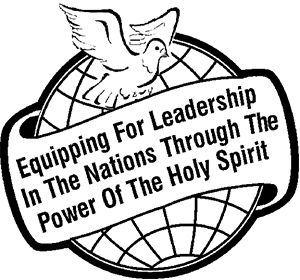 Barnabas Bulletin ~0187
3 Keys For Living In Victory
By Rodney W Francis
The Bible contains many keys to enable the Christian Believer to live a daily victorious life. In Revelation 12:11 we read these words: "And they overcame him (the devil) by the blood of the Lamb and by the word of their testimony, and they did not love their lives to the death." God's will for every believer in Jesus Christ is that we be overcomers; that we know the purpose for which Jesus Christ paid the price He did on the Cross of Calvary, where He shed His life blood in order that you and I might be set free from the power of sin and the devil's ploys.
The Blood of the Lamb.
It is important that we know the power of the blood of Jesus. The Bible is clear when it states: "How much more shall the blood of Christ, Who through the eternal Spirit offered Himself without spot (blemish) to God, cleanse your conscience from dead works to serve the living God?" . . . Without shedding of blood there is no remission (forgiveness)" . . . "but now, once at the end of the ages, He has appeared to put away sin by the sacrifice of Himself" . . . "so Christ was offered once to bear the sins of many" (see Hebrews 9).
When we know what Jesus has done for us in the shedding of His blood, we know that He has set us free from the power of sin and that we are now able to live a wholesome and different life to that which we have known before. Through the blood of Jesus Christ being applied in our lives, we are now new creations and able to live a God-pleasing and God-glorifying life. We are now able to walk in the light with Jesus. "But if we walk in the light as He is in the light, we have fellowship with one another, and the blood of Jesus Christ His Son cleanses us from all sin. If we say that we have no sin, we deceive ourselves, and the truth is not in us. If we confess our sins, He is faithful and just to forgive us our sins and to cleanse us from all unrighteousness" (1 John 1:7-9).
Make sure your sins are all washed away by the precious blood of Jesus Christ!
I encourage you to make a study of the Blood of Jesus in the Scriptures so you will know your true position in Him and live in the light and victory His shed blood has purchased for us.
The Word of Our Testimony.
The second key to living in victory is to have such a personal relationship with Jesus Christ that we are experiencing His reality in our lives that brings about testimonies of His speaking to us, leading and guiding us, answered prayers and what He does for us as we walk in the light with Him. There will always be positive testimony coming about when we walk in right relationship with Jesus. The Bible is full of testimonies of those who walked with God. Today the Christians are the world's "Bible", for the world is not searching the Scriptures and seeking to live God-glorifying life-styles. The more we experience the reality of Jesus in our lives, the more testimonies we will have of His wonderful relationship He has with us.
My experience is that God gives us experiences that turn into testimonies for us to share with others. For those who are preachers, this is especially important. People love to hear genuine testimonies of how and what the Lord is doing today. True testimonies will always bear witness to the truth of the Scriptures. They will always glorify Jesus Christ and point people to Him so that they, too, can experience Him in such a way that they will have their own wonderful testimonies to share.
We Love Not our Lives unto Death.
I find it interesting that many Christians, when quoting Revelation 12:11, do not mention this third key. This third key is the result of the first two keys working in our lives. For when we know the power of the blood of Jesus working in our lives, and the testimonies we have as a result of walking with Him, we then desire to be fully yielded to all that God asks of us; we desire more of that which He has for us. Hanging on to our self-life, self-will and ambitions will only rob us of the best that Jesus has for us. True Christianity is a demonstrated love of God; loving Him more than anyone or anything else in this life, including our own self. When self gets in the way we rob ourselves of God's best for us. Jesus knew what He was saying when He told the rich young ruler (and us) to "take up the cross and follow Me" (Mark 10:21). He explains it more fully and clearly in Luke 9:23-26: "If anyone desires to come after Me, let him deny himself, and take up his cross daily, and follow Me. For whosoever desires to save his life will lose it, but whoever loses his life for My sake will save it. For what profit is it to a man if he gains the whole world, and is himself destroyed or lost? For whosoever is ashamed of Me and My words, of him the Son of Man will be ashamed when He comes in His own glory, and in His Father's, and of the holy angels".
To be a follower and disciple of Jesus Christ means we serve Him on His terms; not according to our wants and wishes. "Taking up the cross" is a death to self, to our ways, etc. It is yielding our all to Jesus out of our love and devotion to Him. The more He has of us ~ and he wants all of us ~ the greater the testimonies we will have to share. It is much more than attending church services on a Sunday! Jesus must be LORD of all! May these keys be a living reality in all our lives today. God Bless YOU! ~ Rodney W. Francis.
Bible Reading: Hebrews 9 Romans 5:1-11
Prayer: "Dear God, I come to You in the name of Your only Begotten Son, Jesus Christ, and I thank You for making the way of Salvation available to me through the shed blood of Your Son, Jesus. Please help me to live in the light and victory of that which Jesus purchased for me at Calvary's Cross. Help me to die to self more and more, so that You will indeed be Lord of all my life and everything I possess. I lay it all at Your altar now, so that I can live in the full victory which You have provided for me. In Jesus' name I thank You for Your love and commitment to me. Praise You, Lord. In Jesus' Name I pray these things, Amen."
The Gospel Faith Messenger Ministry, , New Zealand. Email: This email address is being protected from spambots. You need JavaScript enabled to view it.