WELCOME to the Website of The Gospel Faith Messenger Ministry.
May you be inspired, encouraged and challenged by what you read.
The GFM Ministry has been in operation for over 54 years and continues to grow in its spiritual influence in many countries of the world. Our Message is simple: JESUS CHRIST IS ALIVE TODAY to meet your every need through the power of the Holy Spirit! He is only a sincere prayer away! Reach out to Him and find in Him the real answers you need for your daily living.
The GFM Ministry is focused on releasing the Holy Spirit Ministry through the five-fold ministry gifts (Ephesians 4:11-16


) and the nine Spiritual Gifts (1 Corinthians 12:1-11


), Gospel literature through books, booklets, manuals, Gospel Tracts, 3 Bible Correspondence Courses (free) and Church Meetings (by invitation).
Living for, and Serving Jesus is very exciting indeed, and we invite you to seek Him while He may be found. The best is yet to come for those who will believe the promises of God!
We have some of Rodney's Books  in PDF format that can be freely downloaded (see Resources)
God Bless YOU!
~ Rodney and Jean Francis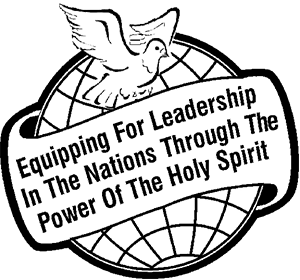 "The Gospel Faith Messenger" Ministry
and Rodney & Jean Francis
Prayer Support Letter 
August  2018
 Greetings to you in the All-Powerful Name of Jesus Christ, the King of kings and Lord of lords! In these days of much turmoil, deception and indifference to the Kingdom of God principles, it is essential for us Christians to know the way and will of God for our daily living. Without His guidance and strength in our life we will surely succumb to the anti-Christ and unbelieving of the Bible that is so noticeable these days. We are called to live a very different life to that of the world. To live in Christ's victory day after day we need to know that it demands a total commitment of our life to Him so that He is truly Lord of all of our lives. Discipleship is a total yielding of our all to Jesus the Lord. His ways are right, and it is only as we submit to His ways and obey what He asks of us that we are able to overcome all "the wiles of the wicked one" (Ephesians 6:10-20


). Make no mistake about it: there is a battle raging today for the souls of mankind from the world, the flesh and the devil (see 1 John 2:15-20


). The key to living in Christ's Victory is to abide in the anointing of the Holy Spirit ~ that same Holy Spirit that raised Jesus from the dead! He now lives inside of every born-again believer on Jesus Christ. Let Him have His way in you! Hallelujah!
Books Ministry: My books continue to make a big impact in a number of nations, especially those nations where books are quite scarce. Many write to tell us that receiving a book from The GFM Ministry is the first book they have ever had. Many do not have Bibles and the Lord is using the books to fill people with the Holy Spirit, speaking in other tongues and prophesying. It is all very new for many of the people. May God open our eyes more and more to see the power of the printed page and what it can accomplish when placed into the hands of hungry people. Here is just one recent report received:  
"I am e-mailing with a heavy heart. I had never known that this could be true. Here in Somali it is a miracle come true. We have been in the dark, walking to hell without anyone to show us the way. Thanks so much for what you have sacrificed for us. We are grateful. We know God has been faithful to us. May Jesus bless your work. Peace which has never been seen can now be felt, because people have started praying, speaking in tongues and giving prophetic words (although very secretively) but God is protecting us" ~ Orposhim Joseph(Northern Camp, Somali).
Together we can make a huge and positive difference in needy nations like Somali. Let us all be active in doing the Master's business; that of getting His Message out to the nations. It is not too late! God bless you ~ Rodney W. Francis.
PRAISE REPORTS:
Matamata and Morrinsville Presbyterian Ministry: "We were blessed to have Rodney and David (Hepworth – from Kapiti Coast) leading our Spiritual Refreshment Seminar at the end of June. This was a lovely weekend of discovery and learning in God. We give thanks that people were touched deeply as they encountered the love of God. Many experienced giving a prophetic word of encouragement for the first time. This blessed them as well. The words used to describe the impact of this weekend were:  encouraging, supportive, profound, enjoyable, challenging, informative. We look forward to seeing the love of God and the continued work of the Holy Spirit amongst us all. Thank you Jesus!!" ~ Sandra Warner (Minister, Morrinsville Presbyterian Church, New Zealand).

First ever Prophetic Conference in Arusha, Tanzania: "The conference was so powerful, a lot happened that I could not believe. God moved mightily and touched so many. The desire and demand for the books is overwhelming, God is changing thousands who are coming to the truth. The last day of impartation brought a town to standstill as almost all who attended spoke in tongues and it became like a sea of different waves. May God keep us strong. ~ Pastor Charles Mwanda (King Jesus Ministries, Mombasa, Kenya). (The GFM Ministry provided 5,000 copies of Rodney's book "Developing Prophetic Ministry" book that were distributed at the Conference).

For the printing of Rodney's manuals, "School Of The Holy Spirit" and "Bible Basics" (5,000 copies of each) for distribution at the Phalura Assemblies Of God Conference (13th-15th July). Special thanks to Phalura AOG Church for paying half the printing costs. Enquiries to: Pastor Jones Chamangwana, E-Mail: This email address is being protected from spambots. You need JavaScript enabled to view it.

For the printing of 2,000 copies of our three Bible Correspondence Courses (total of 38 Lessons) and 2,000 copies of "Bible Basics" manual (in Swahili language) for use in the Kenya Prisons Ministry. Praise the Lord! Enquiries to: Peter Ndegwa (Nairobi, Kenya) = E-Mail: This email address is being protected from spambots. You need JavaScript enabled to view it.
PRAYER FOCUS FOR AUGUST:
For Jean to have a total healing from her left knee replacement operation.

For greater faith to minister to the growing needs of the nations. Daily, requests are coming in for more books, help, etc., to meet the needs of the people. Together we can make a positive difference for Jesus!
COMING EVENTS:
Wednesday 1st: 7:00 p.m. (first Wednesday of month) The GFM Ashburton Equipping Station meets at the home of Bruce and Helen Mitchell, 16 Orchard Grove, Braebrook, Ashburton, NZ. Contact: Bruce & Helen Mitchell, Phone: 03-745 4104.
Friday 3rd

:

 Jean Francis having a left knee replacement operation at Wellington, NZ. Please pray for her, and the operation to be successful.
Thursday 2nd & 16th

: 

7:00 p.m. The GFM Equipping Station meets at the home of, and under the leadership of Katrina Cole, 66 Salisbury Street, Levin. Enquiries: Katrina, Mobile: 021 026 51255.
Tuesday 7th & 21st: 7:00 p.m. (first and third Tuesday of month) The GFM Hamilton Equipping Station meets at the Nawton Presbyterian Church, Livingstone Avenue, Hamilton, NZ. Enquiries to: Dougie & Jackie Hodges, Telephone: 07-846 0684; Cell: 021 140 8081.
Monday 13th

: 

7:30 p.m. (second Monday of month) The GFM Cromwell Equipping Station meets at the home of Jan Robb, 9 Willow Close, Cromwell, NZ. Contact: Jan Robb, Telephone: 03-445 4035, or Barbara Carston, Telephone: 03-445 3415.
Tuesday 14th & 28th: 7:30 p.m. (second and fourth Tuesday of month) The GFM Napier Equipping Station meets at the home of Jewel & Larry Crabtree, 1/7 Gebbie Road, Taradale, Napier, NZ. Enquiries: Jewel & Larry Crabtree, Phone: 06-844 4163.
Wednesday 22nd: 7:00 p.m. (owing to Jean's operation, only one meeting this month) The GFM Kapiti Coast Equipping Station is held at the home of Rodney & Jean Francis, 7 Gandalf Crescent, Paraparaumu, NZ. Enquiries to: Rodney & Jean Francis, Telephone: 04-904 0727; E-Mail: 
 This email address is being protected from spambots. You need JavaScript enabled to view it.
 
Monday 27th: 7:00 p.m. (fourth Monday of month) The GFM Rotorua Equipping Station meets at The Baptist Church, 100-104 Malfroy Road, Rotorua, NZ. Contact: Dougie & Jackie Hodges, Telephone: 07-846 0684; mobile: 021 140 8081; E-Mail: 


 This email address is being protected from spambots. You need JavaScript enabled to view it.
 
THOUGHTS: "If it is in the Bible, it is so. It's not even to be prayed about. It's to be received and acted upon. Inactivity is a robber which steals blessings. Increase comes by action, by using what we have and know. Your life must be one of going on from faith to faith" ~ Smith Wigglesworth . . . "Religion resists change while revelation requires it" ~ David Tait (Webuye, Kenya) . . . "If we once get above our Bibles, and cease making the written Word of God sole rule both as to faith and practice, we shall soon lie open to all manner of delusion, and be in great danger of making shipwreck of faith and a good conscience. Our blessed Lord, though He had the Spirit of God without measure, yet always was governed by, and fought the devil with, 'It is written.'" ~ George Whitefield.
ARTICLE:   "Why Knowing The Bible Is Vital"
DONATIONS: If you would like to support The GFM Ministry financially, by direct crediting to "GFM", details are here ~ BNZ, Account: 02-0312-0025784-00. For overseas people the BNZ Swift Code is: BKNZNZ22. Please include your name. (Tax-deductible receipts can be issued for New Zealanders if we have your name and address).
E-Mails and addresses shown in these pages are for the purpose of enquiring about the scheduled meetings only. As a mark of Christian integrity, unless enquiring about specific advertised meetings, please refrain from sending unsolicited letters and E-Mails to the persons named. If you no longer wish to receive our mails, please send an E-Mail with "Unsubscribe" in subject line. Thank you.
  With Love and Blessings from Rodney and Jean Francis, and "The GFM" Team.
 THE BEST IS YET TO COME FOR THOSE WHO BELIEVE THE PROMISES OF GOD!                            
Have You Prayed For This Ministry Today?