WELCOME to the Website of The Gospel Faith Messenger Ministry.
May you be inspired, encouraged and challenged by what you read.
The GFM Ministry has been in operation for over 54 years and continues to grow in its spiritual influence in many countries of the world. Our Message is simple: JESUS CHRIST IS ALIVE TODAY to meet your every need through the power of the Holy Spirit! He is only a sincere prayer away! Reach out to Him and find in Him the real answers you need for your daily living.
The GFM Ministry is focused on releasing the Holy Spirit Ministry through the five-fold ministry gifts (Ephesians 4:11-16


) and the nine Spiritual Gifts (1 Corinthians 12:1-11


), Gospel literature through books, booklets, manuals, Gospel Tracts, 3 Bible Correspondence Courses (free) and Church Meetings (by invitation).
Living for, and Serving Jesus is very exciting indeed, and we invite you to seek Him while He may be found. The best is yet to come for those who will believe the promises of God!
We have some of Rodney's Books  in PDF format that can be freely downloaded (see Resources)
God Bless YOU!
~ Rodney and Jean Francis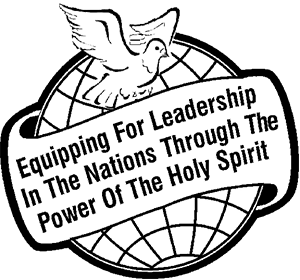 "The Gospel Faith Messenger" Ministry
and Rodney & Jean Francis
Prayer Support Letter 
December  2018
We are fast approaching the end of another year. How has it been for you? What have been the highlights for you as a Christian? Have you accomplished more to the glory of God than you have in previous years? It is good for us to reflect on where we are at in our walk with God and to measure a little of the progress we are making (or not making). Often the key to moving forwards in God is to be making the right decisions, and then sticking to them. We live in a very changeable world, but for the Holy Spirit-filled Christian we are here for a greater purpose than merely existing according to the world's "whims and wishes".
Jesus Christ has saved each one of us for a specific purpose.
That is to be His representative here on earth ~ and each one of us are uniquely different.
That is why it is essential we are filled with the Holy Spirit and hearing His voice, so we can be living and functioning right in the centre of God's will for our lives.
This is vital for us to be New Covenant/Testament Christians, because it is "those who are led by the Spirit of God who are the sons of God" (Romans 8:14


).
We have not been chosen of God to function habitually, or traditionally, or religiously, but to have a living and real relationship with Jesus Christ through the indwelling Holy Spirit. The Holy Spirit is so important to us (according to Jesus), that He had to return to the Father in order to send Him to us (see John 16:7-15


). He also told His disciples they were not to leave town until they were "endued with power ("dunamis" – "God's power to do anything and everything") from on high" (Luke 24:49


). That 'dunamis' power came to them on the day of Pentecost (Acts 1:8


and Acts 2


) when they were all filled with the Holy Spirit and began speaking in other tongues. That experience transformed the very disciples of Jesus from being "unbelieving and hard-hearted" men (Mark 16:8-14


) into powerful living witnesses for Jesus Christ, being led of the Holy Spirit and seeing thousands converted to Jesus Christ (Acts 2:38-47


; Acts 4:1-4


).
How is it with you?
Have you received the Holy Spirit since you believed? (Acts 19:1-7


).
God's way is still the same today.
Do not let anyone ~ Christian or otherwise ~ talk you out of this vital experience of being filled with the Holy Spirit.
If the very disciples of Jesus needed to experience in reality the Holy Spirit coming to dwell within them, how much more do we in this needy end-time hour?
May we all grow a greater desire to fulfil the will of God in and through our lives in the power of the Holy Spirit. God bless you all! ~ Rodney W. Francis.
PRAISE REPORTS:
For the wonderful things happening throughout Eastern and Central African countries through Rodney's books and writings. This year more than 100 Equipping Stations have been launched to help people to grow in the Prophetic Ministry of hearing the voice of God, exercising the Spiritual Gifts, etc. Scores of people have come into a new relationship with Jesus Christ through the infilling of the Holy Spirit, speaking in other tongues (there are at least 10 Scriptural reasons for speaking in other tongues), prophesying and releasing the Gifts of the Holy Spirit. Testimonies abound.
For the printing of Rodney's books, 5,000 copies of "School Of The Holy Spirit" and 5,000 copies of "Divine Healing – A Key To The Growth Of The Christian Church" in Malawi. Special thanks to "World Vision Malawi" for contributing two-thirds of the printing costs ($US4,000.00). They will also be distributing these printings. Enquiries to: Pastor Jones Chamangwana (The GFM Malawi Representative), E-Mail: This email address is being protected from spambots. You need JavaScript enabled to view it.
Thank you very much for praying for the Evangelical Mission of 13-25 November in Butembo town and Kitsombiro (Lubero Territory, Congo). We have  arrived safely today afternoon  in Beni after teaching the impacting insights within your writings "Ezion-Geber" and  "The Equipping Station" to more than 5,000 people in two churches ~ Pastor Mahamba Wa-ibera Evariste (Beni, DR Congo – The GFM Congo Representative).
PRAYER FOCUS:
For Christians to be more aware of the many challenges and opportunities facing them in these times to make Christ known, and to be more committed in helping to fulfil the Great Commission (Mark 16:15-20


).
A new opportunity has come for The GFM Ministry to partner with the East Ugandan Baptist Churches to reach the prison inmates in Ugandan Prisons. The great need is for Bibles to enable them to go through The GFM Bible Correspondence Courses. Please pray the will of the Lord be done. Enquiries to Peter Ndegwa (The GFM Kenya Prisons Representative), E-Mail: This email address is being protected from spambots. You need JavaScript enabled to view it.
For God's will to be done in The GFM Ministry as we walk into 2019 and beyond. The opportunities are far beyond our abilities and we need to know God's timing and provision to fulfil His purposes abundantly.
COMING EVENTS:
Tuesday 4th: 7:00 p.m. The GFM Hamilton Equipping Station meets at the Nawton Presbyterian Church, Livingstone Avenue, Hamilton, NZ. Enquiries to: Dougie & Jackie Hodges, Telephone: 07-846 0684; Cell: 021 140 8081.
Tuesday 4th & 18th: 7:30 p.m. The GFM Napier Equipping Station meets at the home of Jewel & Larry Crabtree, 1/7 Gebbie Road, Taradale, Napier, NZ. Enquiries: Jewel & Larry Crabtree, Phone: 06-844 4163.
Wednesday 5th: 7:00 p.m. The GFM Ashburton Equipping Station meets at the home of Bruce and Helen Mitchell, 16 Orchard Grove, Braebrook, Ashburton, NZ. Contact: Bruce & Helen Mitchell, Phone: 03-745 4104.
JANUARY 2nd – 4th, 2019: The Contagious Conference is being held at "Hope Centre," 3 Kent Street, Levin, NZ. 3 Empowering Days of Five-fold Ministry on the theme of "Multiply"! Speakers include Seth Fawcet, Ross Bartlett, Rodney Francis, Ate Moala, Nick Klinkenberg, Jono Turner, Robin Murray and Tony Collis. Cost: $30.00. To Register, go to: https://www.hopelevin.org.nz/contagious-2019 Enquiries to Hope Centre, E-Mail: 
 This email address is being protected from spambots. You need JavaScript enabled to view it.
 
THOUGHTS: "Only those who will risk going too far can possibly find out how far one can go" ~ T.S. Eliot . . . "Real gold isn't afraid of fire..." ~ (Unknown) . . . "You can't preach it like it is if you don't believe it like it was" ~ Vance Havner . . . "If it is in the Bible, it is so. It's not even to be prayed about. It's to be received and acted upon. Inactivity is a robber which steals blessings. Increase comes by action, by using what we have and know. Your life must be one of going on from faith to faith" ~ Smith Wigglesworth.
ARTICLE:    "God's Supernatural Call For Mary" ~  Jean Francis.
DONATIONS: If you would like to support The GFM Ministry financially, by direct crediting to "GFM", details are here ~ BNZ, Account: 02-0312-0025784-000. For overseas people the BNZ Swift Code is: BKNZNZ22. Please include your name. (Tax-deductible receipts can be issued for New Zealanders if we have your name and address).
E-Mails and addresses shown in these pages are for the purpose of enquiring about the scheduled meetings only. As a mark of Christian integrity, unless enquiring about specific advertised meetings, please refrain from sending unsolicited letters and E-Mails to the persons named. If you no longer wish to receive our mails, please send an E-Mail with "Unsubscribe" in subject line. Thank you.
With Love and Blessings from Rodney and Jean Francis, and "The GFM" Team.
THE BEST IS YET TO COME FOR THOSE WHO BELIEVE THE PROMISES OF GOD!
Have You Prayed For This Ministry Today?
A Very Blessed and Fruitful Christmas Season to all our Readers!