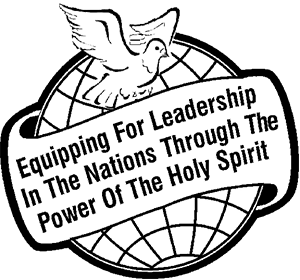 "The Gospel Faith Messenger" Ministry
and Rodney & Jean Francis
Prayer Support Letter 
May  2019
 Greetings to all our readers in over 120 nations! I trust you are having a very good year in your walk and service with Jesus Christ? In spite of the growing opposition to the true Message of Jesus, this is still a day of opportunity in many parts of the world. Every day we are receiving testimonies and reports of what the Holy Spirit is doing in the lives of people. People are being saved out of religious ideologies and coming into a real relationship with Jesus Christ. Then they are being filled with the Holy Spirit and speaking in other tongues, and going on to exercise the Spiritual Gifts. This is all very enlightening to those who have been locked into false religions and teachings, even in so-called Christian meetings, where these things are not encouraged. But once people have experienced the truth and reality of Jesus and the Holy Spirit, life takes on a whole new meaning and direction. Their meetings are full of life and blessings. Hallelujah! The Bible becomes a living Book, as these teachings and experiences are all there in the Bible ~ and are the norm for New Covenant believers.
Make sure you are filled with the Holy Spirit and hearing God's voice to you.

It is the key to successful Christianity and enables us to fulfil the purpose and calling of   God on our lives.
This ministry continues to grow daily, and we have the privilege of ministering to over 6,000 Christian Leaders (besides many others), many of whom are being encouraged and nurtured through The GFM Ministry. As a result, multiplied thousands are being ministered to as they share and teach the writings produced by this ministry. The books continue to impact thousands of lives in numbers of nations. We are so grateful for all the faithful supporters of this ministry, whom without their faithful prayers and financial support, these things could not happen. Please keep The GFM Ministry in your daily prayers, especially as we are getting into parts of the world where Christianity is going for the first time. Praise the Lord! We find it difficult to realize that in some places the books are the very first ones they have ever seen or received. They value them greatly. Praise God for the many thousands of books we have been able to print and provide free of charge in a number of countries. All praise to Jesus. It is all happening because the Lord spoke to us to get them out to the nations while the door of opportunity is still open ~ for the day is coming when doors will be closed and we will be unable to get the Message into them. With literature, unless it is destroyed, it remains to minister again and again. Our experience is that we are still receiving responses to the writings we send out over 20 years later! I am so glad that I have committed to print the things that God has put in my heart. Hallelujah!
May we all be challenged to believe God that this year will prove to be our best yet in the purposes of God. This is not a time to be looking back, but to be looking and moving forwards to accomplish those things that God has saved and chosen us for. God bless you all ~ Rodney W. Francis.
PRAISE REPORTS:
Waverley Baptist Church, New Zealand (30th-31st March, 2019): Rodney, On behalf of all who attended the weekend you visited us here in Waverley, New Zealand ~ a big thank you! People were touched by the Holy Spirit and encouraged to have confidence of hearing Holy Spirit speak and then to speak it out as well. The joy and presence of God amongst us that weekend has started changes within, not only of myself, but others in our congregation. It's been a desire of mine to see the Body of Christ begin to become excited by the Gifts they have and to exercise them. We have begun to do just that since your visit and it's marvellous to see. We all need encouraging; we have been encouraged. So again, thank you and all the Brothers and Sisters who have prayed for us. Truly we are blessed by your obedience to our Lord and Saviour, Jesus Christ. From a grateful Brother ~ Ted Reeves (Pastor).

For the printing of 5,000 copies of "School Of The Holy Spirit" manual and 5,000 copies of "Bible Basics" manual for distribution in Ethiopia. Enquiries to: Pastor Jones Chamangwana (The GFM Malawi Representative) = E-Mail:

This email address is being protected from spambots. You need JavaScript enabled to view it.

For the printing of 5,000 copies of "School Of The Holy Spirit" manual ~ 2,500 for distribution in Rwanda and 2,500 for distribution in S. Sudan. Enquiries to: Pastor Charles Mwanda (one of The GFM Representatives in Kenya ~ Mombasa, Kenya), E-Mail:

This email address is being protected from spambots. You need JavaScript enabled to view it.

For the printing of 5,000 copies of "School Of The Holy Spirit" manual and 5,000 copies of "Bible Basics" for distribution in Malawi. Special thanks to the Pastors fraternity of Mgomwa and Mtsimuke (Malawi) for contributing 50% of printing costs ($US3,000.00). Enquiries to: Pastor Jones Chamangwana (The GFM Malawi Representative), E-Mail:

This email address is being protected from spambots. You need JavaScript enabled to view it.

Praise God for the numbers of Prophetic Equipping Stations that are opening up in different countries. There are over 110 functioning now (that we know of).
PRAYER FOCUS FOR MAY:
Please pray for Peter Ndegwa (Nairobi, Kenya) and the Prison Ministry he is involved with throughout Kenya, and now expanding into Uganda. Pray that the needs will be met as he faithfully ministers day after day. The GFM Ministry is involved in taking thousands of prisoners through the Bible Correspondence Courses (at the request of the Prison Authorities). Enquiries to: Peter Ndegwa, E-Mail:

This email address is being protected from spambots. You need JavaScript enabled to view it.

For Christians to have wisdom, discernment and understanding of the times in which we are living.

For Christians to be pressing in, and knowing the will of God, as never before ~ and sharing the faith and Message which gives eternal life to others (Acts 22:14-15 ).
COMING EVENTS for MAY 2019:

Wednesday 1st: 7:00 p.m. (First Wednesday of the month) The GFM Equipping Station is at the home of Bruce and Helen Mitchell, 16 Orchard Grove, Ashburton, NZ. Contact: Bruce & Helen Mitchell, Cell: 022 010 9753 or E-Mail: 

This email address is being protected from spambots. You need JavaScript enabled to view it.
Sunday 5th: 3:00 p.m. The GFM Hawera Equipping Station is being held at the Presbyterian Church, corner of Argyle and High Street, Hawera, NZ. Speaker: Ps. John Wilkie. Enquiries to: Cathy Ogden, E-Mail: 

This email address is being protected from spambots. You need JavaScript enabled to view it.
Tuesday 7th & 21st: 7:00 p.m. (First and Third Tuesday of the month): The GFM Hamilton Equipping Station meets at the Nawton Presbyterian Church, Livingstone Avenue, Hamilton, NZ. Enquiries to: Dougie & Jackie Hodges, Telephone: 07-846 0684; Cell: 021 140 8081
Tuesday 14th: 10:00 a.m. (Second Tuesday of the month): The GFM Kapiti Equipping Station meets at the home of Rodney and Jean Francis, 7 Gandalf Crescent, Paraparaumu, NZ. Enquiries to: Rodney & Jean Francis, Telephone: 04-904 0727; E-Mail: 

This email address is being protected from spambots. You need JavaScript enabled to view it.
Wednesday 22nd: 7:00 p.m. (Fourth Wednesday of the month): The GFM Kapiti Equipping Station meets at the home of Rodney and Jean Francis, 7 Gandalf, Paraparaumu, NZ. Enquiries to: Rodney & Jean Francis, Telephone: 04-904 0727; E-Mail: 

This email address is being protected from spambots. You need JavaScript enabled to view it.
Monday 27th: 7:00 p.m. (Fourth Monday of the month): The GFM Rotorua Equipping Station meets at the Baptist Church, 100-104 Malfroy Road, Rotorua, NZ. Enquiries to: Dougie & Jackie Hodges, Telephone: 07-846 0684; Cell: 021 140 8081; E-Mail: 

This email address is being protected from spambots. You need JavaScript enabled to view it.
Tuesday 28th: 7:30 p.m. (Fourth Tuesday of the month): The GFM Napier Equipping Station meets at the home of Jewel and Larry Crabtree, 1/7 Gebbie Road, Taradale, Napier, NZ. Enquiries to: Jewel & Larry Crabtree, Phone: 06-844 4163.
THOUGHTS: "Forgiveness heals both the forgiver and the forgiven" . . . "The most precious gift we can give is often the least appreciated – our time" ~ David Tait (Webuye, Kenya) . . . "We must continue in prayer if we are to get an outpouring of the Spirit" ~ Andrew A. Bonar . . .  "A revival always includes conviction of sin on the part of the church.... Backslidden Christians will be brought to repentance. A revival of God is nothing else than a new beginning of obedience to God" ~ Charles Finney.
ARTICLE:  The Cause Of ~ And Answer To ~ Church Problems
DONATIONS: If you would like to support The GFM Ministry financially, by direct crediting to "GFM", details are here ~ BNZ, Account: 02-0312-0025784-000. For overseas people the BNZ Swift Code is: BKNZNZ22. Please include your name. (Tax-deductible receipts can be issued for New Zealanders if we have your name and address).
E-Mails and addresses shown in these pages are for the purpose of enquiring about the scheduled meetings only. As a mark of Christian integrity, unless enquiring about specific advertised meetings, please refrain from sending unsolicited letters and E-Mails to the persons named. If you no longer wish to receive our mails, please send an E-Mail with "Unsubscribe" in subject line. Thank you.
 With Love and Blessings from Rodney and Jean Francis, and "The GFM" Team.
 THE BEST IS YET TO COME FOR THOSE WHO BELIEVE THE PROMISES OF GOD!
  Have You Prayed For This Ministry Today?
 "The Gospel Faith Messenger" Ministry.  PO Box 57, Paraparaumu 5254, New Zealand.  Email This email address is being protected from spambots. You need JavaScript enabled to view it.