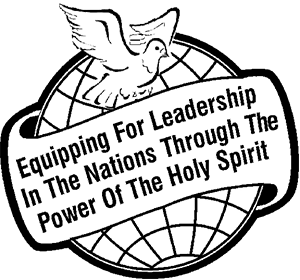 "The Gospel Faith Messenger" Ministry
and Rodney & Jean Francis
Prayer Support Letter 
January 2019
 WELCOME to 2019! We have reached another momentous moment in history! What does this year have in store for you? More of the same . . .? Or a rising up to face the new challenges that God has for us in these challenging days? What happens for us in 2019 depends on what decisions we make today, and what we will do with our life, time, possessions, etc. now in the light of God's will for us. Know for sure that God has saved each one of us for a specific purpose. That purpose is to fulfil His will for us, which enables us to do things over and above any natural abilities we may have. It takes faith to please God (Hebrews 11:6


) and faith is an action . . . an act of obedience on our part in response to what God speaks to us. 
He is speaking today ~ are we listening, and do we have a commitment to do whatever He asks of us?

Your response to these questions will determine what kind of year you will have.

Living with a commitment to hear and obey the Lord opens up all kinds of exciting opportunities for us to be used in supernatural ways by His Mighty Holy Spirit.

Remember, the same Holy Spirit that raised Jesus from the dead now lives inside of you and me! (Romans 8:9-39 ). Hallelujah!  
Everywhere you and I go the Blessed Holy Spirit goes with us and is looking for opportunities to use us to further the purposes of God on the earth today. We have to look beyond our weaknesses and see His strength that is now dwelling inside of us. Let this be a year where we are available to God more than ever before and allow Him to use us like never before, so we will have great rewards in heaven after our time here on earth is over. Let us not forget the principle that we reap what we sow (Galatians 6:2-10


). Right now, let us sow according to God's purposes and then watch in amazement what reaping that brings forth in and through us. God bless you! ~ Rodney W. Francis.  
PRAISE REPORTS: 
For the printing of 5,000 copies of "Spiritual Warfare" (book) and 5,000 copies of "Curses" (manual) in Malawi. Special thanks to the International Bible College (Malawi) for providing 50% of printing costs ($US3,000.00); and they will distribute the printings. Enquiries to: Pastor Jones Chamangwana (The GFM Representative, Malawi), E-Mail: This email address is being protected from spambots. You need JavaScript enabled to view it.

For the printing of 2,000 copies of "Developing Prophetic Ministry" book: 1,000 each for distribution in Somali and Sudan. Enquiries to: Pastor Charles Mwanda (Mombasa, Kenya), E-Mail: pastor This email address is being protected from spambots. You need JavaScript enabled to view it.

Hello Rodney, Thank you so much for the wonderful message you preached at our church (25th November). It was very well received and I believe that God spoke to many that were present in the congregation. Thank you also for all those wonderful visitors who came to hear you speak. They were a blessing also. One person from our congregation said this to me – "Rodney Francis was very good. He was witnessing about the Gifts of the Spirit. He was giving his own testimony. He was also very Scriptural. He didn't go overboard. I realized that the gifts are happening today, not just in the past" (Bob). Thanks again for being such a blessing, ~ Scott Lelievre (Pastor, Masterton Baptist Church, NZ).
COMING EVENTS for JANUARY 2019: 
Tuesday 29th: 7:30 p.m. The GFM Napier Equipping Station meets at the home of Jewel & Larry Crabtree, 1/7 Gebbie Road, Taradale, Napier, NZ. Enquiries: Jewel & Larry Crabtree, Phone: 06-844 4163. 
PRAYER FOCUS for JANUARY 2019:
For Christians to be more aware of the many challenges and opportunities facing them in these times to make Christ known, and to be more committed in helping to fulfil the Great Commission (Mark 16:15-20 ). Jesus said to His disciples: "The harvest truly is plentiful, but the labourers are few. Therefore pray the Lord of the harvest to send out labourers into His harvest" (Matthew 9:36-38 ).

For God's will to be done in The GFM Ministry as we walk into 2019 and beyond. The opportunities are far beyond our abilities and we need to know God's timing and provision to fulfil His purposes abundantly.
THOUGHTS: "Without challenges there can be no accomplishments. Faith lubricates the challenges and drives the accomplishments" ~ David Tait (Webuye, Kenya) . . . "I want to help you decide that, by the power of God, you will not be ordinary" . . . "God wants His people to be ablaze with Holy Ghost activity" ~ Smith Wigglesworth . . ."When you look at the inner workings of electrical things you see wires. Until the current passes through them there will be no light. That wire is you and me - the current is God. We have the power to let the current pass through us, use us, to produce the light of the world (Jesus) in us ~ or we can refuse to be used and allow darkness to spread" ~ Mother Teresa.
ARTICLE:  "2019 and YOU ~ A Year Of Greater Challenge?" ~ Rodney Francis.
 With all the problems the World is facing, it can be somewhat unsettling.  Today, I want to share with you 'ten predictions' that are true! 
Top 10 Predictions for 2019: 
1.  The Bible will still have all the answers. 
2.  Prayer will still be the most powerful thing on Earth.

3.  The Holy Spirit will still move powerfully where he is welcomed. 
4.  God will still honour the praises of His people. 
5.  There will still be God-anointed preaching. 
6.  There will still be singing of praises to God.

7.  God will still pour out blessings upon His people.
8.  There will still be room at the Cross. 
9.  Jesus will still love you.
10.Jesus will still save the lost when they come to Him. 
 Isn't It Great To Remember Who Is Really In Control, and that "the Word of the Lord endures forever" (1 Peter 1:25


)!! I hope you found this encouraging!  I sure did.
DONATIONS: If you would like to support The GFM Ministry financially, by direct crediting to "GFM", details are here ~ BNZ, Account: 02-0312-0025784-000. For overseas people the BNZ Swift Code is: BKNZNZ22. Please include your name. (Tax-deductible receipts can be issued for New Zealanders if we have your name and address).
E-Mails and addresses shown in these pages are for the purpose of enquiring about the scheduled meetings only. As a mark of Christian integrity, unless enquiring about specific advertised meetings, please refrain from sending unsolicited letters and E-Mails to the persons named. If you no longer wish to receive our mails, please send an E-Mail with "Unsubscribe" in subject line. Thank you.
 With Love and Blessings from Rodney and Jean Francis, and "The GFM" Team.
 THE BEST IS YET TO COME FOR THOSE WHO BELIEVE THE PROMISES OF GOD!
  Have You Prayed For This Ministry Today?