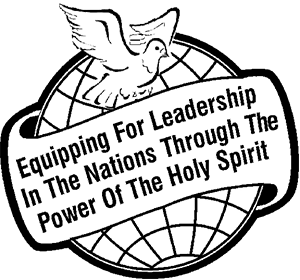 "The Gospel Faith Messenger" Ministry
and Rodney & Jean Francis
Prayer Support Letter 
November  2018
 Greetings to you all in Jesus' wonderful name. This Ministry continues to expand its borders around the world and we are very grateful to all of you who pray and support this vision. It certainly is reaping a harvest and we give God all the glory for that. Thousands are being impacted by the Holy Spirit in many nations as a result of your prayers and giving. Please keep it up. Only eternity will reveal the full impact of our working together with Jesus in the power of the Holy Spirit. And the best is yet to come! Thank you and God bless you ~ Rodney W. Francis.
PRAISE REPORTS:
Report of Kenyan trip (16th September to 4th October) of Lily Sinke (Paraparaumu, NZ) and Pastor John and Eileen Traill (Featherston, NZ):
"Pastor Gerishon of 'City Centre' told me that many lives were touched by the power of the Holy Spirit and received their "Prophetic Word" when Pastor John and Eileen ministered there. This year's "Healing and Prophetic Conference" at PEFA Utawala had a powerful and glorious visitation of the Holy Spirit. In both the 'Women's' and 'All Members Conferences' there was an atmosphere of expectation and receiving from the Lord, and the Word came forth with an anointing of the Holy Spirit. You were bold to speak forth and address the people of God from the Book of Acts, leading the church into holy and righteous living, forgiveness of each other and living and walking in the power of the Lord. Your lived-out testimony was a healing to many souls, and the Lord ministered to His people in diverse ways as you ministered. There were people who were baptized in the Holy Spirit with evidence of speaking in tongues during this conference and prophetic powerful utterances. The Lord used John and Eileen to flow in the Holy Spirit and released the Prophetic Word into the lives of people and changed destinies. I recall after the Conference several leaders who received the ministry of the Holy Spirit went for three days of prayers and fasting, and they are back with a commitment to serve the Lord vigorously all the days of their lives. These Conferences were in a God-sent season for Utawala Church and believers in our community, and we thank the Lord for your ministry" ~ Pastor Moses Muguro (PEFA Utawala Church, Nairobi, and a GFM Representative in Kenya).
Uganda Theological Colleges Summit: (21st-23rd September): It was the greatest achievement ever to have held the Summit in Uganda which brought together representative from 367 Colleges. This was the most effective meeting ever, considering that the participants represented almost all the colleges in Uganda and their representation meant each college received a good number of the "School Of The Holy Spirit" manuals. Copies which they took were to start laying a prophetic foundation in the general syllabus. Although there was need of several different books which could have been a way of building up a system of growth in prophetic knowledge which is very important. There was a general feeling that we need at least two types of books: the "School Of The Holy Spirit" and "Developing Prophetic Ministry" in every college as a starting point in putting firmness in the Prophetic Ministry. On the last day we had impartation prayers and 80 percent of the participants spoke in tongues for the first time. It was very interesting to learn that functions of the Holy Spirit and the giving of Prophetic Messages is never taught in colleges. Prophetic Ministry is new in Uganda and it was well-received by all. Many questions were asked, which were well-answered by the message in the book. They promised to take the same message to their villages where they come from and each took five copies to their local churches. It was powerful and very successful. Praise God! ~ Charles Mwanda (King Jesus Ministries, Mombasa; and a GFM Representative in Kenya).

Ignite Prophetic Ministry, Palmerston North, NZ: (6th October): "What a blessing it was to attend Ignite Prophetic Ministry in Palmerston North, a Holy Spirit-led ministry. The speakers were Jenny Matheson, Rodney Francis, Erana Hogan and Vaughan Dennison. This was the first time I had heard Rodney Francis minister and was blessed to see his humility and humour. He is definitely an empowered and equipped man of God. Rodney spoke about the time when he was 18 years old and in the middle of a paddock, God called him to the ministry and now he has influenced and impacted 250 nations world-wide. I was so blessed to sit under his teaching that day. I took so much away from the other speakers also and I especially enjoyed the 'listening to the voice of God activation time in the afternoon. It was good to see the theory and practical working together in a meeting". ~ Bonita Belworthy (Palmerston North, NZ).

"I have been doing prophetic ministry for close to 20 years now and am thankful to the Lord for having such an amazing mentor by the name of Rodney Francis. Rodney released a word of knowledge over a woman by the name of Aroha about treasures stored up in her that were needing to be released and this moved her to tears. I had the opportunity to pray with her at the end of the day as she needed some prayer ministry. We are blessed to be a blessing and The GFM ministry is definitely a blessing to our nation" ~ Jenny Matheson (Ignite Prophetic Ministry Founder).
For the printing of 5,000 copies of Rodney's book, "Developing Prophetic Ministry" for distribution in Rwanda. Enquiries to: Pastor Charles Mwanda (Mombasa, Kenya) = E-Mail: This email address is being protected from spambots. You need JavaScript enabled to view it.
PRAYER FOCUS FOR NOVEMBER:
For all The GFM Voluntary Workers in numbers of nations. No one in this Ministry receives a salary. All do a great job.
COMING EVENTS:
Thursday 1st & 15th: 7:00 p.m. (first and third Thursday of month) The GFM Equipping Station meets at the home of Katrina Cole, 66 Salisbury Street, Levin. Enquiries: Katrina, Mobile: 021 026 51255.
Tuesday 6th & 20th: 7:00 p.m. (first and third Tuesday of month) The GFM Hamilton Equipping Station meets at the Nawton Presbyterian Church, Livingstone Avenue, Hamilton, NZ. Enquiries to: Dougie & Jackie Hodges, Telephone: 07-846 0684; Cell: 021 140 8081.
Wednesday 7th: 7:00 p.m. (first Wednesday of month) The GFM Ashburton Equipping Station meets at the home of Bruce and Helen Mitchell, 16 Orchard Grove, Braebrook, Ashburton, NZ. Contact: Bruce & Helen Mitchell, Phone: 03-745 4104.
Tuesday 13th & 27th: 7:30 p.m. (second and fourth Tuesday of month) The GFM Napier Equipping Station meets at the home of Jewel & Larry Crabtree, 1/7 Gebbie Road, Taradale, Napier, NZ. Enquiries: Jewel & Larry Crabtree, Phone: 06-844 4163. 
Wednesday 14th & 28th: 7:00 p.m. (second and fourth Wednesday of month) The GFM Kapiti Coast Equipping Station is held at the home of Rodney & Jean Francis, 7 Gandalf Crescent, Paraparaumu, NZ. Enquiries to: Rodney & Jean Francis, Telephone: 04-904 0727; E-Mail: 
 This email address is being protected from spambots. You need JavaScript enabled to view it.
 
Sunday 25th: 3:00 p.m. – 5:30 p.m. The Hawera GFM Equipping Station meets at the Hawera Presbyterian Church, corner of Argyle and High Street (opposite Subway food), Hawera, NZ. Teaching and practical time. Led by Cathy Ogden. Guest Speaker: Pastor's wife, Michelle Cornish (Assembly Of God, Hawera). For more information, contact the Presbyterian Church, Telephone: 06-278 0166.
Monday 26th: 7:00 p.m. (fourth Monday of month) The GFM Rotorua Equipping Station meets at The Baptist Church, 100-104 Malfroy Road, Rotorua, NZ. Contact: Dougie & Jackie Hodges, Telephone: 07-846 0684; mobile: 021 140 8081; E-Mail: 


 This email address is being protected from spambots. You need JavaScript enabled to view it.
 
THOUGHTS:
"An unpruned tree produces little fruit" ~David Tait (Webuye, Kenya)"Real gold isn't afraid of fire..." (unknown) . . . "God became man to turn creatures into sons: not simply to produce better men of the old kind, but to produce a new kind of man." ~ C.S. Lewis
ARTICLE:        "Abiding In Jesus"
DONATIONS:
If you would like to support The GFM Ministry financially, by direct crediting to "GFM", details are here ~ BNZ, Account: 02-0312-0025784-00. For overseas people the BNZ Swift Code is: BKNZNZ22. Please include your name. (Tax-deductible receipts can be issued for New Zealanders if we have your name and address).
E-Mails and addresses shown in these pages are for the purpose of enquiring about the scheduled meetings only. As a mark of Christian integrity, unless enquiring about specific advertised meetings, please refrain from sending unsolicited letters and E-Mails to the persons named. If you no longer wish to receive our mails, please send an E-Mail with "Unsubscribe" in subject line. Thank you.
  With Love and Blessings from Rodney and Jean Francis, and "The GFM" Team.
 THE BEST IS YET TO COME FOR THOSE WHO BELIEVE THE PROMISES OF GOD!                            
Have You Prayed For This Ministry Today?